100In1Day Toronto: 100 small scale initiatives with a huge impact
Submitted by Cameron Dale on | Updated Sat, 17/09/2016 - 23:49
Read time: 6 mins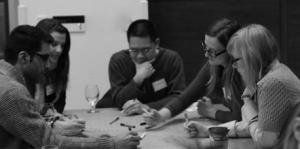 This week, I had the pleasure of interviewing Lhazin Nedup, Project Manager at Evergreen Cityworks, Toronto. Focusing on how we plan and design our cities to transform the way we live,
and reducing the environmental impact of urban areas on a large scale, Evergreen CityWorks influences decision makers towards effective policy change in key city building areas like housing and transportation. It also engages citizens to take action.Amongst Evergreen's many projects, Lhazin is currently heading up the 100In1Day initiative for Toronto, as part of an international festival of mass urban intervention set for June 4th in partnership with United Way Toronto York Region in Toronto. .
First things first, what is the 100In1Day festival?
The initial goal for 100In1Day was to have 100 small scale initiatives run by the citizens, each being a projection of the creator's dream for the future of the city.
What led Evergreen to partner with 100In1Day?
At Evergreen,we place a huge emphasis on how we connect the voices of decision makers to the public sphere around them, so 100In1Day really spoke to us. It was a great opportunity to get on the ground with citizens and help them pioneer their own city changing ideas, targeted at first towards each other, and then eventually towards policy makers in the city.
And where did it all begin?
Simply put it began in Bogota, Columbia, over a round of drinks! The original founders were a group of design students, who were tasked with running a handful of interventions that would change the city's landscape, based around the themes of innovation and community building. While at the pub, they started saying 'why stop at five, why not do 100?' and then set the goal of doing them all in 1 day. They reached out to the community and started hosting ideation workshops leading up to May 26th 2012 and succeeded with over 250 citywide interventions in their very first year.
Where did it go from there?
With it being such a phenomenal success, it began to spread first to other cities in Colombia, then other parts of South America, to Copenhagen and Milan, as far as Hong Kong. With a total of 31 cities as of 2016 including Toronto and Montreal. Last year in Toronto we had 126 interventions, and are hoping to have even more in 2016!
You mentioned it being based around 'Urban Interventions'. What exactly does one of those look like?
An urban intervention is a small scale initiative, either run by an individual, an organization or a small group of people. Basically it's a tangible action of the day of the festival that showcases their city changing idea. An intervention can be as simple as running high fiving passers by or running a puppy kissing booth, to something more tactical, focusing on a specific environmental or social issue, such as vertical greening or green transit.
With such a wide range of interventions being carried out, and issues being highlighted, what would you say is the biggest success of 100In1Day?
Personally, I think the biggest success that 100In1Day has accomplished is the platform it provides to individuals. A lot of the time in a city like Toronto there is so many initiatives taking place that people are either are not recognised for their efforts in making the city a better place or do not have a channel to showcase their ideas. 100In1Day helps us build a community and platform for those people. Having a brand that's part of a global movement really legitimises what intervention leaders are doing, and helps them stand up and contribute to local placemaking initiatives.
Are there any interventions over the last few years which really stood out to you?
It's hard to choose, but a couple definitely stick out. For example in Halifax, an intervention leader put red swings up all over the city, from trees, signs and in parks, you name it.The community loved it, but the city council, not so much. When they tried to take them down however, the people rallied, saying that the swings helped people explore unused spaces in their city and made city a better place. The people wouldn't budge and now the red swing initiative is part of Halifax's public policy, showing 100In1Day can lead to real policy change.
A 'Laneway Playground' created for a Toronto intervention in 2015.
Another, here in Toronto was a project carried out by Marc Yamaguchi last year in the East end, to build a rain garden in his front yard that would absorb excess rain and prevent basement flooding. His intervention gathered mass interest from his neighbours, who helped him on his first build on June 6th. This interest led to him winning a grant at the Toronto Vital Innovation awards of $10,000, which left him able to transform all the front yards in his neighbourhood into rain gardens. This time around, they are leading rain garden tours and providing people with toolkits to build their own, showing how 100In1Day interventions can build year on year toward real change.
One of the neighbourhood 'Rain Gardens' inspired by Marc Yamaguchi's 2015 intervention.
With all the past successes clear, what's new to the 2016 festival?
While any and all interventions are still being encouraged, Evergreen and United Way Toronto York Region are focusing our resources and energy into thematic areas, running a number of thematic workshops this year to combat a few persistent issues within the city. The first one is the use of laneways- laneway housing gaining traction on the news and the huge investment so many homeowners have in repurposing their laneways and alleys, we decided to make that a key target of the festival this year. We want to advance the laneway agenda and encourage people to revitalise their laneways, turning them into more vibrant and useable community spaces.
Laneway projects often involve more organization and community support, so having an organisation like Evergreen and United Way Toronto York Region being the backbone of 100In1Day in Toronto means we can connect resources and networks to citizens to really help them advance their projects. The network keeps growing year on year, with 100In1Day allowing people across the city to tap into existing organizations that were always there, but they just didn't know about them.
Now it's not just happening in Toronto is it?
Aside from Toronto, it's happening in Vancouver, Edmonton, Hamilton, Montreal and Halifax all on June 4th. If you are in those cities you can just search 100In1Day.ca online and jump in! If you're not in those cities, that doesn't mean that you can't celebrate 100In1Day in your own community, you should definitely reach out to Evergreen- we have toolkits and worksheets to plan your own intervention or bring 100In1Day to your city.
Finally, whilst so many intervention leaders are likely green minded and looking to make a change, what would you say to anyone else to get them involved?
I'd tell them to start by participating in an intervention in their neighbourhood.The great thing about 100In1Day is that it doesn't just cover a specific environmental or social issue, but the whole spectrum of change. I bet everyone can find something that matters to them on the intervention map- check it out and have some fun! For my partner it was the silent disco last year, which is coming back this year. Who can resist a silent disco in your community?
The 100In1Day festival will be happening in six cities across Canada this year- to get involved check out this link to see how you can get involved, or simply what you can look forwards to seeing happen near you in a few months time. You can also follow the festivals run up on twitter or instagram.
You will save the Earth by sharing and/or tweeting (corny right?)