Act on Climate March – April 11th at 1 PM in Québec City
Submitted by Laura Roch on | Updated Sat, 17/09/2016 - 23:49
Read time: 2 mins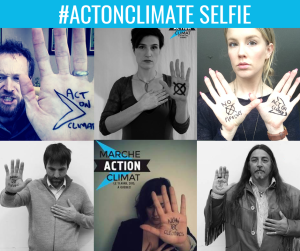 Canada's premiers are meeting up in Québec City on April 14th to discuss climate change issues. This is an opportune moment for the public to show up with their message: YES to climate protection, NO to expanding Canada's tar sands and pipelines and YES to just, green, renewable energy.
If you agree with this message please join in the march on April 11th, 2015 at 1PM in Québec City. Buses are being provided at a range of locations which you could organize to be on, for more details check out: http://act-on-climate.ca/transport/
In addition to the march, on April 11th at 7:30 PM there will be a Climate Show held at le Capitole in Québec City (cost $12.61 plus tax), and on April 12th from 10 AM to 3 PM there will be an Act on Climate Forum (cost $20) where we can come together and connect, identify and build collaborations and develop steps for the future, as we move closer to the 2015 federal elections and the UN Climate Change Conference in Paris.
So come on out to Québec City on April 11th:
Wear red
Bring posters and banners
Bring noisemakers
And bring your energy and passion
Be a part of the change
From http://act-on-climate.ca/takeaction/:
Even if you cannot go to Québec on April 11, you can still raise your voice with us. Send your Premier an #ActOnClimate selfie to let them know you demand climate protection, no tar sands pipelines, and clean energy solutions now.
Instructions:
Step 1: Take a selfie with our cool "no pipelines" icon.
Step 2: Post it to Facebook and tag your Premier.
Step 3: Tweet it at your Premier using the hashtag #ActOnClimate.
For more information about the Act on Climate March go to: http://act-on-climate.ca/
You will save the Earth by sharing and/or tweeting (corny right?)