Buying local, credit yourself on making the choice where everybody wins!
Submitted by Polly on | Updated Sat, 17/09/2016 - 23:49
Read time: 3 mins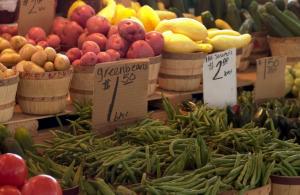 What does it mean to buy local? I didn't learn about it until last summer. Over the past decade big chained supermarkets were my stops for groceries. Global warming and environmental pollution all were concepts I had in mind yet without knowing about many things that can be done to prevent them, except for recycling. I used to think recycling was the only thing I can do to protect the earth; I am not a scientist, I am not a teacher, I am not an environment official; I have done my part protecting the earth.
Well I haven't. Not until I discovered a farmer's market right across the street from me, did I realize I can do more. It was during one of my morning walks. I am always addicted to morning breezes; that morning while enjoying fresh air as usual on my way to the deep forest in the park, I noticed lines of booths being set up in the parking lot. Events take place in that spot quite often, vintage car exhibits, book readings, outdoor concerts, etc., so I was expecting people passing me shiny colorful flyers when walking towards the booths, but instead at the entrance is a boy in a straw hat holding up a sign reading "farmer's market". Newly cropped goods are always attractive to me with their clean, fresh appearance. The market was composed of local small-scale farmers; they lined up booths laying out various goods, fresh grapes covered with frost or green peppers in weaved baskets. I spent half-hour in the market that morning and went home with bags full of groceries that lasted a whole week. It was my first grocery shopping that took no travel and no gas consumption. As much as I was proud of my discovery, I brought my family to the market the following week and the weeks after. Now our weekly trips to big supermarkets turn into bi-monthly only for products unavailable at the market.
Out of curiosity about local farmers I did a few small researches which further applauded the changes I made. Researches show small farmers are more environmentally friendly whereas industrial agriculture includes genetically modified goods, monoculture production, and chemical fertilizer intensive processes to grow crops, which local small farmers usually avoid doing. Another study finds a meal produced with products from local farmers' market travels 100 kilometers on average from origin to a dinner table; whereas the average North American meal prepared with regular products travels over 2000 kilometers. Together with shipping, refrigeration and packaging, food transportation is a big contributor to environmental pollution. Imagine how much electricity and fuel can be saved if we all shop local?
I love small farmer's markets; it saves me time and energy and sells healthier organic food. More importantly I am reducing environmental impact of my meals thanks to them. I credit myself on making the choice where everybody wins.
http://beyondthemarket.ca/buy-local/why-buy-local/
http://www.ucsusa.org/our-work/food-agriculture/our-failing-food-system/industrial-agriculture
You will save the Earth by sharing and/or tweeting (corny right?)