Composting in New York City
Submitted by Maia on | Updated Sat, 17/09/2016 - 23:50
Read time: 2 mins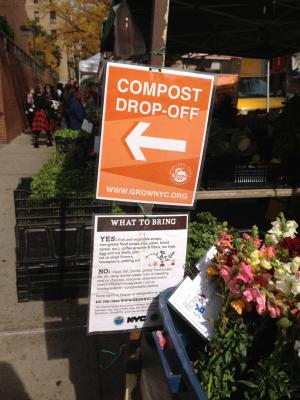 These days, composting is the new recycling. Composting not only improves soil health but can also offset global warming by reducing the methane emissions that occur when natural materials break down in landfills. But what about those of us living in a crowded place like New York City, where space seems too scarce to start an individual compost?
GrowNYC, a nonprofit outreach program, has 35 Greenmarket compost collection sites throughout NYC. All you have to do is collect your food scraps in a closed plastic container (such as a large yogurt container) and drop them off at any collection site. "Accepted materials include fruit and vegetable scraps, non-greasy food scraps (rice, pasta, bread, cereal etc.), coffee grounds & filters, tea bags, egg and nut shells, pits, cut or dried flowers, houseplants and potting soil" (www.grownyc.org). Visit www.grownyc.org/compost/locations for a list of locations and drop-off times. In addition, some food establishments, such as Whole Foods, Think Coffee, and O Café also provide in-store compost bins (if you happen to be walking down the street with food waste, you can dispose of it in one of these places).
If you want to try composting at home, it is a simple process. You can make your own bin to keep indoors using an empty coffee can or similar container (see www.ehow.com/how_6522810_make-kitchen-compost-bin.html). For outdoor composting, you can purchase an automatic compost bin that takes care of the tossing process by itself. NYC residents can purchase discounted compost bins at www.nyc.gov/html/nycwasteless/html/compost/edu_equip_order.shtml. The NYC Compost Project also offers workshops on indoor and outdoor composting. Visit www.nyc.gov/html/nycwasteless/html/compost/compostproj_wrkshps.shtml for more information.
With food waste accounting for the largest single form of waste in landfills (21%), we have a responsibility to compost as much as we can. Every bit counts, and NYC alone can make a huge difference.
You will save the Earth by sharing and/or tweeting (corny right?)