Cooking or Baking for the Holidays? Buy Local !
Submitted by Stephanie Kumar on | Updated Sat, 17/09/2016 - 23:49
Read time: 4 mins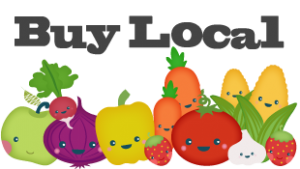 It is the holiday season and that means ALOT of eating. If you are baking and cooking for the holiday season, buy local groceries ! There are MANY benefits to buying local groceries. In this article I explore the drawbacks of not buying local groceries then I go into the many benefits of buying local groceries and then I share some grocery stores which carry local groceries.
DRAWBACKS OF NON-LOCAL GROCERIES
Non-local food is grown hundreds of miles away, in places like California, Florida and Mexico, so there are days perhaps even more than a week has passed since it was picked, packaged and trucked to the store, where it can sit on the shelves even longer. Often, too, produce is picked before it's ready, preventing it from ever reaching its nutritional potential.
Over time, vitamin stability decreases; temperature changes, exposure to air and artificial light all wreak havoc, robbing fruits and vegetables of nutrients.
The large farmers have to plant things that will survive a lot of abuse. The average supermarket potato travels 1,500 miles. Local farmers don't have to worry about factoring all that in. They can plant anything.
BENEFITS OF BUYING LOCAL
Locally grown food tastes better. The crops are picked at their peak, and farmstead products like cheeses and are hand-crafted for best flavor. Livestock products are processed in facilities nearby and typically the farmer has direct relationship with processors, unlike animals processed in large industrial facilities;
Local food is better for you. The time between the farm to your table is shorter, so the less likely it is that nutrients will be lost from fresh food. Food imported from far away is older and has travels on trucks or planes, and sits in warehouses before it gets to you;
Local food preserves genetic diversity. Smaller local farms, often grow many different varieties of crops to provide a long harvest season, a variety of colors, and the best flavors. Livestock diversity is also higher where there are many small farms rather than few large farms;
Local food benefits the environment and wildlife. Local farms provide ecosystem services: they conserve fertile soil, protect water sources, and sequester carbon from the atmosphere. The farm environment is a patchwork of fields, meadows, woods, ponds and buildings that provide habitat for wildlife in their communities (https://www.uvm.edu);
It supports the future of farming. The stronger our local farmers become, the more we ensure local goods can be grown and raised for generations to come;
It promotes cultural diversity. Many local farmers grow a variety of "culturally diverse" ingredients locally so traditional recipes from different heritages can be honoured and prepared fresh (http://www.greenlivingonline.com), and
Local food benefits the environment. By purchasing locally grown foods you help maintain farmland and green and/or open space in your community (http://msue.anr.msu.edu).
STORES WHICH CARRY LOCAL GROCERIES
Whole Foods Market is a store which carries local groceries. Therefore if you are looking for local groceries and you can not go out to a local farmer's market you can go to your local Whole Foods Market to find local products (http://www.wholefoodsmarket.com/local).
Safeway has started carrying local groceries. In California, local produce comes from within the state, with an emphasis on produce from Northern California from their NorCal stores, and an emphasis on produce from Southern California for their Vons and Pavilions stores in the south. For their East Coast stores, they focus on produce from Maryland, Virginia and Pennsylvania. New Jersey and Delaware are also part of their East Coast region. Therefore, if you want local groceries you can travel to your local Safeway and get local groceries (http://www.theproducenews.com).
CONCLUSION
When you are shopping for groceries for holiday baking and cooking buy local. There are numerous benefits to buying local; such as, food tastes better, it is better for you and it is good for the environment !
Happy Green Holidays !!
Sources:
http://www.wholefoodsmarket.com/local
http://www.greenlivingonline.com
Image Source:
You will save the Earth by sharing and/or tweeting (corny right?)