Environmentally Conscious Living in the Age of the App
Submitted by Michelle on | Updated Sat, 17/09/2016 - 23:50
Read time: 4 mins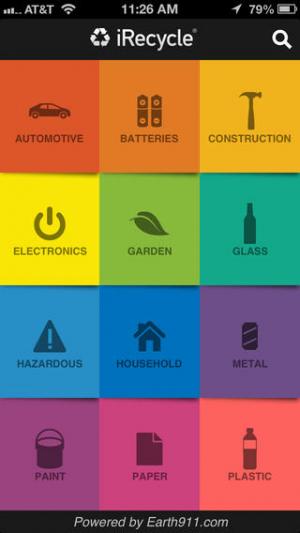 Technology is providing innovative ways for people to be environmentally conscious and health attentive. While there is an abundance of information on the Internet to browse through at any given time, apps have been able to condense knowledge, and deliver the information in a more concentrated format. Below are four FREE apps that are paving the way for "green living" in our daily lives.
iRecycle
Availiable for iOS, Android & iPad
Recycling is a fantastic way to reduce energy usage, lower greenhouse emissions, and diminish the consumption of fresh raw materials. Now, there's an app that helps you do this!
iRecycle is a free application that allows you to find the nearest recycling depot, based on the material you are choosing to recycle. The app is quite useful in North America, with a largely American database of recycling depots, and selective Canadian depots. There are twelve categories to choose from (see image on the left).
Each category is equipped with several subcategories of items to select. Have you ever wondered where you could recycle aluminum lids? Plastic clamshells? Bike Tires? Lithium Batteries? Find a recycling depot for these items has never been easier!
Dirty Dozen
Availiable for iOS, Android & iPad

Dirty Dozen is one of my favourite applications. The simplicity of its information and design makes the app easily accessible for users - and the message comes across clearly. Created by EWG (Environmental Working Group), a U.S. organization
that advocates for public health and the environment, the app supplies two important lists:
The Dirty Dozen: Fruits and Vegetables with the highest pesticide contaminations (foods that you should buy organic).
The Clean Fifteen: Fruits and Vegetables that have a low incidence of pesticide contamination (foods you don't have to buy organic).
The app enables users to make healthy and environmentally conscious choices in their daily grocery shopping. The fruits and vegetables are also ranked from worst to best, so you can quickly target which foods are most concerning.
RHS Grow Your Own
Availiable for iOS and iPad

Do you dream of growing your own garden? Are you looking for advice on how to start?
RHS (Royal Horticultural Society) Grow Your Own offers an excellent database of advice on gardening. Users are able to choose specific fruits and vegetables they are interested in growing, and have access to information on plant care, favourable harvest times, and common problems. Once you have selected your fruits and veggies, the handy "to do list" builds a personalized agenda to help you look after your garden. The checklist tells you what you need to do, and when you need to do it, to ensure your garden's success.
Not sure of where to start? The "Help Me Choose" button allows you to consider factors including space, tending, and your experience with gardening. You can set your preferences, and have the gardening advice tailored specifically for you!
Whole Foods Market Recipes
Availiable for iOS and iPad; Android Coming Soon
Looking for the perfect recipe to satisfy your farm-friendly, organic food-loving soul?
Whole Foods Market, Inc. is an American supermarket with stores across the USA, Canada, and the UK. The stores specialize in providing natural and organic foods, and promote a variety of healthy options.
Whole Foods has now launched an app that offers over 3,000 healthy recipes! Users are able to access meal plans, find store specials, and learn how to stay healthy while on a budget!
As well, using the very appropriately named "On-Hand" search button, users are able to find recipes that use ingredients that they already have.
App users are also able to create shopping lists from recipes with one click. You can also sync your shopping lists with the recipe database - enabling quick meal ideas to come together in no time!
Sources:
iRecycle Image: http://a2.mzstatic.com/us/r30/Purple/v4/88/99/cd/8899cdf0-29cf-234b-75ef-5dfd55579447/screen568x568.jpeg
Dirty Dozen Image: https://lh3.ggpht.com/Kro1IPe48hK-8moztQD8JepEdT672YcdWSeMlZo2eiEVR-8YUNqZAwiq37ASMVFlN2gW=w300
RHS Grow Your Own Image: http://webassets.rhs.org.uk/content/getattachment/2f50d409-7dce-44b3-ac10-e70cd62d5913/RHS-hailed-winners-of-three-GYO-awards.aspx?width=510
Whole Foods Market Recipes Image:
http://2.bp.blogspot.com/-tUUCoNzEapQ/TwyjIDuQQOI/AAAAAAAAAVI/Vm3mjkGx_dI/s1600/Picture+6.png
You will save the Earth by sharing and/or tweeting (corny right?)