Insulated Curtains: Energy Efficient and Cost Effective
Submitted by Vasudha on | Updated Sat, 17/09/2016 - 23:50
Read time: 3 mins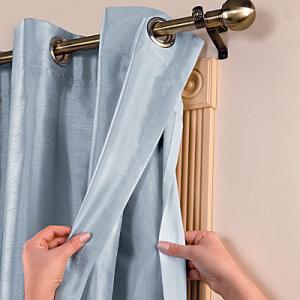 As the summers are approaching, it is time to start thinking of ways to make the indoors cooler. And what better way to save energy and change the look of your house than to switch to insulated curtains. Yes, these drapes keep the indoors cool during those long summer days and give your living area a fresh feel for the new season as well. There are many benefits of this energy saving idea and it can fit any budget.
Mainly, Insulated curtains are "lined panels that are designed to help block outside light while also helping to make the process of heating and cooling an interior space more cost-effective", according to the definition by Wise Geek. This helps in saving energy by maintaining cool temperature inside the room, as the cooled air doesn't get heated up from the sunlight outside. Not just that, they also prevent the cool air from escaping and warm air from coming in, which helps in keeping the indoor temperature constant. And with the use of insulated drapery and shade system, the overall solar heat gain during summer can be reduced by 79% - which reduces usage of air conditioner; which in turn saves energy and brings down your electricity bill. And this can be significant, as air conditioning/cooling makes up almost 20-25% of a household's monthly utilities bill.
Furthermore, these provide an affordable option in comparison to others, especially if you are looking for a low budget way of managing energy use this summer. You can buy these from a store - these are available in various patterns and designs and can also be customized to your needs. And if that doesn't work out, you can even make your own insulated curtains easily at home with the help of tutorial videos available online. By making it yourself, you can choose the color that goes with the decor of your house and even decide the level of insulation you require.
Additionally, these curtains provide a fresh look to your house and brighten up your windows. A cooler shade adds the much needed soothing effect and makes the environment more relaxing. So, apart from saving energy and being the talking point of next get-together, these drapes make the indoors comfortable during those sweltering summers.
Lastly, insulated curtains are very easy to maintain and last a long time. You can spray these with upholstery cleaner now and then or just vacuum to keep them in perfect condition. And after some time of use or in case of stains, you also have the options of washing or getting these dry-cleaned depending on the fabric.
Its an energy efficient and a cost-effective way to change the décor of your home and your summers will go by like a cool breeze.
References
You will save the Earth by sharing and/or tweeting (corny right?)