Maximize your New Years Resolutions – join the pledge to go green in 2016
Submitted by Sara Ganowski on | Updated Sat, 17/09/2016 - 23:49
Read time: 5 mins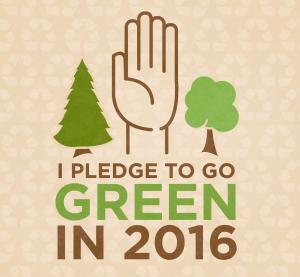 If you're anything like the rest of us New-Year Resolutioners, you're likely (hopefully) well on your way to ditching your old 2015 habits, and working towards a healthier, wealthier, happier, you! With the holidays behind us, most of us are trying to lose those extra pounds or finding ways to spend less money; but have you considered really turning a new leaf, and going green in 2016?
The end of 2015 paved way for the world to pursue many ambitious, international green resolutions. The December Paris climate conference for instance, united 195 countries together in a revolutionary agreement to collectively combat climate change by acting to globally reduce greenhouse gas emissions. According to The World Bank, COP21 brought together over 450 cities, with a population of nearly 1 billion people, in a pledge to cut their carbon emissions by 50% within the next 15 years. With new legally binding targets, industries and governments worldwide are anticipating 2016 to be "the year of green energy" and "the global green economy's best year yet."
Still, political and corporate leaders committed to these objectives will only deliver results if they can secure the support of their parties, partners, consumers, and the public at large. Strength in numbers has never had such potential. Environmentalist Rick Bates, from the Canadian Wildlife Federation, says that our every day actions, no matter how small, play a significant role in cutting global carbon emissions.
If we are truly to make 2016 the breakthrough year in our journey to a globally sustainable economy, it's time we recognize sustainability as a personal responsibility and opportunity to better ourselves and our planet. At first glance however, this task can seem monumentally challenging.
But, what if I told you that adding eco-New Year's resolutions to your list, can actually help you achieve your other 2016 goals, such as exercising more, spending less, or starting a special project? There are numerous simple ways you can reduce your carbon footprint this year while working towards a better you! Here's how you can green your personal New Year goals:
Give your personal new years resolutions an eco-facelift by joining the world's pledge to making 2016 green. Not only does vowing to reduce your carbon footprint help to counteract our warming climate, it can result in financial savings,­­­ as well as the enhancement of your overall well-being. Whether it's eating healthy, or reducing your energy use, an eco-resolution can help you reach your goals while instilling a sense of pride for helping create a brighter, more sustainable future.
You will save the Earth by sharing and/or tweeting (corny right?)