New Year, New Eco Friendly You
Submitted by Gabby on | Updated Sat, 17/09/2016 - 23:49
Read time: 5 mins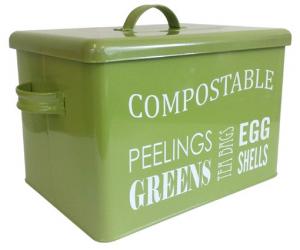 Whether you are a college or high school student, someone who's been out of school for a little while or you consider yourself a baby boomer, everyone needs a fresh start at the beginning of a new year. With 2015 in full motion, put your resolutions list to what I like to call the "Green Test". Unlike some tests we've taken in our lives, this one is pretty easy to pass. The only prerequisite is, make sure these tasks are beneficiary to not only you but your environment. Here, you'll find simple and quirky projects you can start to reduce your ecological footprint and get an A+. Some are even perfect for fun family activities.
Let's be honest, we've all been in the position where we forget our reusable grocery bags while shopping but cheers to you if you're a proud owner of one. I've always had reusable bags but I would be lying if I said I wasn't guilty of forgetting them in the car from time to time. When I go to check out and have to troubling realization that I have forgotten my multicolored reusable BFF, I cringe at the fact that I'm about to use a dozen plastic bags. If you ever find yourself in a similar situation... don't fret! You can easily turn this situation around.
Here's what you can do with those bags:
•Collect all the plastic bags you have and bring them to a local dog park.
Usually, they have dispenser which you can conveniently refill with your plastic bags. Although this doesn't necessarily help reduce the amount of plastic bags, it gives your baggies more of a purpose. Hooray to reusing!
•Bring them to a grocery stores, thrift stores and food banks will take in these bags.
They'll either recycle them for you or reuse them. These methods seem to be the some of the easiest steps to take to improve your ecological footprint.
Fun fact, the U.S. Green Building Council has published new charts and graphs showing the amount of LEED projects some countries have running. First and foremost, LEED stands for Leadership in Energy and Environmental Design. It is a green construction certification system. It's number one goal is to help building owners and operators have measurable green building designs. USGBC claimed that in 2013, Canada alone had more than 4,200 projects. And that number has only been growing. Not only is the trend of building your own home increasing but the trend of building green has grown immensely within the past few years. But you don't need to build a whole new home to have an environmentally friendly household.
There is a huge range of things you can do or install to reduce your anthropogenic impact on the earth. The World Wildlife Fund states that about 270,000 trees are either flushed or thrown out every day. To help reduce that amount... here's what you can do;
•Switch out your paper towels and toilet paper for recycled tissues.
Available in almost all supermarkets, by buying products with high recycled content, you're reducing the demand of virgin fibers and non recycled content. You will be playing your part in helping save trees around the world without having to sacrifice the comfort of your toosh!
•Invest in a water saving toilets.
They're mostly found in businesses but why not install one in your home. Stop flushing away your money all while reducing the amount of water being used. 30% of our water consumption comes from the use of our toilets. Grab control of the amount of water you use and get a toilet with flushing preferences. Pretty self-explanatory, choose big flush for your number two's and small flush for your number one's. The Canada Mortgage and Housing Corporations ran a study and found that duel setting toilets saved households water. Their report stated, "[...] dual-flush toilets were found to save an average of 26 per cent more water than the single-flush 6-litre toilets when used to replace non-efficient toilets". So not only would you be reducing your water consumption but this would also result in a lower water bill.
Here's a fun craft you and your kids could create that will also benefit our planet. Take their love for arts and crafts and their young bright minds and introduce them to the reality that they can play a part in helping our planet. Create a compost bin. Take no more than 30 minutes.
What you'll need:
• Fairly large plastic storage bin
• Anything from leaves, fruits and veggies to tea bags and cardboard
• Tool to create holes in the bin
Follow these simple steps and you'll have your brand new compost bin.
Step 1) Cut out holes on the lid of the bin to maximize air flow (Adults Only)
Step 2) Progressively fill the bin with all your materials that are considered compostable.
Step 3) As you patiently wait, decorate the bin with drawings and doodles.
This fun art project not only enriches your soil and reduces your need of chemical fertilizer but it also reduced methane emission in landfills and, yes you guessed it, reduces your ecological footprint.
Usually my new years resolutions lists are either unachievable or broad or even both. Maybe it's just because I started studying Environmental Science in university and my green thumb is finally at its peak but this year I had an urge to change things around. I not only want to achieve my goals but I want others to benefit from them. Being more green is a goal that requires devotion but not all the time in your life, it requires patience but don't cause stress or anxiety. Ultimately, turning your household and your actions more eco-friendly is beneficiary for you and for our environment. Play your part in helping our planet and become part of the movement towards a environmentally healthy future.
Sources:
You will save the Earth by sharing and/or tweeting (corny right?)