Scotland: An Unexpected Hub for Sustainable Fashion
Submitted by Laura Golden on | Updated Sat, 17/09/2016 - 23:49
Read time: 3 mins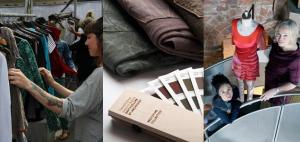 Paris, Milan, London, New York and … Glasgow? Scotland is emerging as a center for fashion. And Scotland is possibly our new favorite fashion destination because it is not at the cutting edge of just any type of fashion, but sustainable fashion!
On November 20th, during the Scottish Textile Symposium in Glasgow, a catalyst for sustainable fashion production was unveiled. Zero Waste Scotland, an environmental nonprofit funded partially by the Scottish government, announced the creation of the Circular Economy Textile and Apparel Grant Fund. Through this fund, sustainable fashion designers can apply for grants of £5,000 as well as mentoring from an "industry expert" to propel their ecological fashion efforts. The first grant awards were distributed in December 2014.
Scotland's Circular Economy Textile and Apparel Grant Fund is looking to promote two concepts among its award recipients which are considered crucial to cutting down on apparel waste: zero waste pattern design and closed loop textile production.
Zero waste pattern designs work to ensure that not a single piece of fabric goes to waste through clothing construction. In typical clothing construction, It is estimated that between 15 and 20 percent of the fabric used is thrown in the trash as scraps. There are several methods to eliminating this scrap fabric production through zero waste pattern designs. Designers often produce clothing patterns that fit together like puzzle pieces. Other designers do not cut the fabric at all, but rather design by draping whole pieces of fabric over mannequins and then strategically placing seams that prevent the need to produce fabric scraps. Another consideration in zero waste pattern design is the creation of patterns that allow clothing to be easily disassembled and then reused in the future.
Closed loop textiles production involves sourcing textiles from preexisting apparel. Closed loop textiles can be be sourced simply by disassembling old clothing in order to reuse its textiles to produce new clothing. In the past few years, however, producing closed loop textiles has become a much more high-tech endeavor. New eco-friendly technology has the ability to breakdown textiles while separating different types of fibers and removing textile dyes. Thus, fabrics can be turned back into yarn to be made into new fabric and then new clothing. This closed loop textile production allows repurposed fabric to have the same quality as fabric produced directly from non-recycled, new resources.
Initiatives, such as Zero Waste Scotland's, will likely decrease the approximate 2 million tons of clothing thrown away each year in the United Kingdom. Currently, clothing makes up 5 percent of the United Kingdom's carbon footprint and 6 to 8 percent of the United Kingdom's water footprint. Zero Waste Scotland's Circular Economy Textile and Apparel Grant is working to come as close to eliminating these negative environmental impacts as possible.
What could be more chic than creating incredible fashion while being kind to the earth?  Hopefully the rest of the world will take notice and follow Scotland's fashionable lead.
Sources:
"Background of issues in the textile industry." Uniform Reuse: Information for Manufacturers, Designers, and Purchasers. http://www.uniformreuse.co.uk/uk-clothing-waste.html.
Chua, Jasmine Malik. 20 Nov. 2014. "Zero Waste Scotland Announces fund for Sustainable-FashionDesigners." Ecouterre. http://www.ecouterre.com/zero-waste-scotland-anounces-fund-for-sustainable-fashion-designers/.
Kane, Annie. 20 Nov. 2014. "Zero Waste Scotland announces fund for sustainable fashion." Resource. http://resource.co/article/zero-waste-scotland-announces-fund-sustainable-fashion-6964
Rosenbloom, Stephanie. 13 Aug. 2010. "Fashion Tries On Zero Waste Design" The New York Times. http://www.nytimes.com/2010/08/15/fashion/15waste.html?_r=0
"Scotland leading the way on sustainable fashion." 20 Nov. 2014. Zero Waste Scotland. http://www.zerowastescotland.org.uk/content/scotland-leading-way-sustainable-fashion
Rhoades, Cyndi. "There is more to closed loop textile recycling than technological innovation." The Guardian. http://www.theguardian.com/sustainable-business/2014/sep/24/closed-loop-textile-recycling-technology-innovation
You will save the Earth by sharing and/or tweeting (corny right?)