Win-Win: Corporations Take on Climate Change
Submitted by Christina on | Updated Sat, 17/09/2016 - 23:50
Read time: 11 mins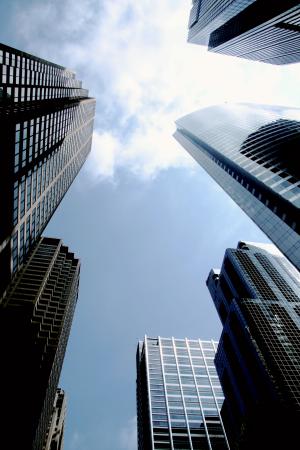 Climate change is clearly on corporate radar these days.  From public declarations of support for regulations to voluntary programs that assess and reduce greenhouse gas emissions, companies appear to be taking the issue quite seriously.  Companies are both banding together and taking individual steps to reduce their emissions. Whether the true motivation is public relations or the bottom line, companies are recognizing that addressing climate change can reduce business risk, create long-term value for investors and the economy, and benefit the environment.
Inventory to Action
The first step to reducing corporate greenhouse gas emissions is producing an accurate inventory of emissions.  One of the most widely used tools is the Greenhouse Gas Protocol (GHG Protocol) produced by the World Resources Institute (WRI) and the World Business Council for Sustainable Development (WBCSD).  The GHG Protocol is the foundation for almost every greenhouse gas standard and program in the world and has been used by more than 1,000 companies globally.  Many companies also use outside consultants or train their own employees to conduct emissions inventories.  For example, Locus Technologies provides companies with sustainability reporting services using an independent accounting and reporting protocol developed by the Global Reporting Initiative (GRI).  Other companies opt for benchmarking and inventory tools available from government agencies like the US EPA.
Once an inventory is done, businesses have multiple avenues to reduce greenhouse gas emissions, both directly and indirectly, depending on their size and industry.  For example, companies can improve efficiency and reduce energy use in their manufacturing processes; reduce business travel and increase teleworking; reduce energy use and improve energy efficiency in office and retail space; minimize packaging and transportation costs; and create more energy efficient products.  Companies can also look more broadly to track supply chain emissions and encourage their suppliers to reduce emissions; ensure that products they use are made in an environmentally sustainable way that does not contribute to deforestation and climate change; and incorporate green leasing terms into office space and other leases.
Taking steps to reduce greenhouse gas emissions pays off, and businesses are realizing that climate change is an economic driver for them.  The Carbon Disclosure Project (CDP), for example, collects corporate climate change and other environmental data from more than 5,000 companies globally and discloses it to 767 institutional investors holding US$92 trillion in assets.  Disclosure of environmental data is intended to provide corporate shareholders with clear information about environmental risk, which in turn should propel companies to make sound investment decisions to minimize that risk.  The CDP S&P 500 Climate Change Report 2014 found that companies disclosing emissions are delivering significantly higher returns on equity than non-disclosing companies, and corporate emission reduction projects are delivering significantly higher returns on investment than the average.
Annual reports on corporate social responsibility (CSR) and sustainability now tout the environmental and economic benefits of these emission reduction efforts.  For example, MGM Resorts International's 2013 CSR Annual Report highlighted its investments in recycling, water and electricity conservation, upgraded exterior lighting, retrofit of central plants, and installation of a massive rooftop solar photovoltaic array at Mandalay Bay in Vegas, expected to produce nearly 20% of the resort's power demand at peak demand times.  MGM's efforts have resulted in conservation of nearly 340,000 kWh of electricity, prevention of 660,000 pounds of CO2 emissions, and conservation of over 26,000 gallons of fuel. 
Cisco's 2014 Corporate Social Responsibility Report analyzed its investment of $9.6 million in 90 operational projects to reduce energy and greenhouse gas emissions and estimated that they avoided 237 million kWh of energy consumption and 97,700 metric tons of CO2 since 2009.  Installation of solar photovoltaic systems at three Cisco facilities is estimated to produce 2.0 million kWh of electricity annually, resulting in cost savings of $380,000 per year and prevention of at least 1,140 metric tons of CO2 emissions each year.  In a demonstration of foresight, Cisco's report notes that the company sets long-term (i.e., five-year) reduction goals in order to ensure that large investments with their potential for big payoff are actually implemented.
Apple's 2014 Environmental Responsibility Report evaluates its efforts to meet three environmental priorities: (1) reduce climate change impact by using renewable energy sources and making products more energy efficient; (2) using greener materials in products and processes; and (3) conserving resources.  To these ends, Apple's report notes that the company has reduced the average total power consumed by Apple products by 57 percent since 2008; removed harmful toxins from many products, including PVC, brominated flame retardants, and phthalates; and recycled more than 421 million pounds of electronic waste.  Apple has set a goal to power all Apple corporate offices, retail stores, and data centers entirely with renewable energy: solar, wind, micro‑hydro, and geothermal.  The company is investing in onsite energy production and working with third‑party renewable energy suppliers.  Apple has built a massive solar farm in North Carolina to power a data center there, and 100 percent of the energy used in its data centers and corporate campuses comes from renewable sources.  Apple is now expanding its efforts to improve the operations of its manufacturers and suppliers. 
Partnerships and Coalitions
Many large companies are forming partnerships with environmental groups to reduce their greenhouse gas emissions and overall environmental impact.  Walmart, for example, has teamed up with Environmental Defense Fund to implement three laudable goals: (1) be supplied 100% by renewable energy; (2) create zero waste; and (3) sell products that sustain people and the environment.  Over the past eight years, Walmart has increased its fleet efficiency by over 25%, reduced its global plastic shopping bag waste by 33%, is installing next-generation solar technology at more than 30 Walmart facilities, has specified "wash in cold water" on its clothing, and has launched a fertilizer optimization initiative to encourage its food and beverage suppliers to reduce emissions from the use of nitrogen fertilizer.  Walmart has set a goal of reducing greenhouse gas emissions from its supply chain by 20 million metric tons by 2015.  Walmart is also part of The Sustainability Consortium® (TSC®), whose more than 90 business members are collaborating to develop a new generation of environmentally and socially sustainable consumer products in all sectors.  The TSC's Sustainability Index includes toolkits assessing the entire life cycle of different products and is now being used to link the annual reviews and compensation of Walmart's buyers to specific sustainability goals.  Walmart is clearly recognizing the influence it can wield with its suppliers, its own buyers, and the general public. 
Another corporate giant, Starbucks, is assessing the impact of climate change on its global supply chain with the help of Conservation International.  Starbucks is working with Conservation International in Mexico, Brazil and Indonesia to make coffee production processes more sustainable, to conserve and restore natural habitat, and to facilitate farmer access to forest carbon markets or other payment for environmental services.   Starbucks prepared its own inventory of GHG emissions in 2013 using the WRI/WBCSD Greenhouse Gas Protocol.  Starbucks evaluated its global retail stores and roasting operations and found that more than 80 percent of its GHG emissions were from energy use in stores, offices, and coffee roasting plants.  As a result, the company is focusing its efforts on energy conservation and the purchase of renewable energy.
Companies are also banding together to tackle climate change.  For example, 34 major corporations are members of a coalition called Business for Innovative Climate and Energy Policy (BICEP), which is committed to working with government policy makers to pass meaningful energy and climate legislation that will encourage new jobs and economic growth as part of a low-carbon economy.  BICEP was founded on the belief that energy and climate challenges present both risks and opportunities for businesses.  BICEP aims to reach bipartisan consensus among policy makers to reduce US greenhouse gas emissions 80 percent below 1990 levels by 2050, with an interim goal of at least 25 percent below 1990 levels by 2020.  To meet this goal, BICEP is promoting policies to double energy efficiency in the United States; require renewable energy to produce 20 percent of electricity in the United States by 2020 and 30 percent by 2030; and adjust energy subsidies to discourage high polluting energy, provide incentives for clean energy, and reflect full environmental, social, and economic costs.  BICEP members comprise a range of companies in all sectors, including Gap, General Mills, Kellogg, Levi Strauss, Mars, Nike, Patagonia, Seventh Generation, Symantec, North Face, and Unilever.
Public Commitments
Public statements from corporate coalitions vowing to fight climate change abound.  During Climate Week in New York in September 2014, a global investor statement on climate change was signed by 362 global institutional investors representing more than US$24 trillion in assets.  The statement noted the significant gap in capital needed to finance the transition to a "low carbon and climate resilient economy" and urged governments to develop policies that would encourage significant investment in renewable energy, energy efficiency, sustainable land use, and climate resilient development.  The statement specifically called for the removal of fossil fuel subsidies, regulatory support for energy efficiency and renewable energy, and financial support for clean energy and low carbon technologies.
Similarly, a group of investors with more than $300 billion in assets wrote a letter to the US EPA in October 2014 calling for a comprehensive national rulemaking to address major sources of methane emissions from the oil and gas industry.  The investors, which included managers of Trillium Asset Management and the New York City Pension Funds, noted that a clear policy to limit methane emissions is vital for reducing the economic costs of climate change and for contributing to economic growth in domestic oil, gas and renewable energy production.
Climate Week also saw the signing of the New York Declaration on Forests by 27 national and 8 regional governments, 34 huge multinational companies, 16 indigenous peoples, and 45 NGOs.  The Declaration pledges to cut global deforestation in half by 2020 and end it entirely by 2030.  The signing companies, which include major palm oil makers like Unilever and Cargill and users like Kellogg, L'Oreal, and Nestle, have committed to work to stop clearing forests and to plant new palms in order to meet the declaration goals. 
A slew of other commitments were made by companies during and in the weeks following Climate Week.  For example, six major global oil and gas companies signed onto an Oil and Gas Methane Partnership and pledged to improve their drilling and production practices in order to reduce emissions of methane gas.  Nineteen companies and two industry groups made major commitments to cut emissions of hydrofluorocarbons (HFCs) used for air conditioning or refrigeration.  The companies, which include Honeywell, Kroger, Target, Carrier, PepsiCo and DuPont, cover the entire HFC supply chain from production to manufacturing to stores.  PepsiCo, for example, pledged to increase the energy efficiency of its equipment and to use only HFC-free equipment by 2020.  Target has opened two new storage facilities that use ammonia instead of HFCs for refrigerants, and plans to have seven stores that use carbon dioxide refrigeration by next year. 
More than 1,000 companies, small and large, have also signed the CERES Climate Declaration, an aspirational document calling on America to rise to the challenges and seize the economic opportunities associated with tackling climate change.  CERES urges signing companies to take more concrete steps in the fight as well, e.g., by signing a letter of support for EPA's Clean Power Plan and by joining BICEP in its efforts to shape US energy policy. 
Can Companies Do More?
It is obviously heartening to watch the corporate tide finally turning in favor of action on climate change.  The days of skepticism and debunking the science of climate change, while far from over, are clearly waning.  Companies are recognizing that the issue is real, that the economic costs of addressing climate change are great, and that the social, environmental, and economic costs of not acting are even greater.  As a result, we are seeing efforts from businesses big and small, across different sectors and industries.  Companies are inventorying emissions, investing in energy efficiency and emissions reduction projects, and calling for regulatory certainty and financial incentives to transition to a low-carbon economy. 
Whether this is enough remains to be seen.  To witness a company like Walmart, long vilified for its labor and business practices, take on an issue with such vigor is a great step in the right direction.  To see corporate giants like Apple and Starbucks invest in renewable energy to such degrees raises hope.  On the other hand, are inventories and emissions reduction projects enough?  Could Walmart go further and revamp its products and sales so that it no longer encourages mass consumerism with its buy cheap and throw away mentality?  Could Walmart sell fewer and more environmentally friendly products?  Could Apple revamp its design process to eliminate the planned obsolescence allegedly built into its products?  Could all companies work to make their products greener, more efficient, and longer lasting?  This would be the ultimate effort to conserve resources and eliminate pollution—including greenhouse gas emissions—but it may not be a viable business strategy.  Producing less cuts drastically into the corporate bottom line by running counter to the basic goal of business, which is to sell more stuff to make more money. 
Given this reality, let's recognize the progress that is being made and encourage more.  Corporate efforts to address climate change are a win-win for the economy and the environment. 
What Can You Do?
Become a more conscious consumer and show your support for businesses that are taking climate change seriously. 
Research the companies that make the products and provide the services you use and see what they are doing to protect the environment.
You will save the Earth by sharing and/or tweeting (corny right?)