Global warming solutions: Greener lawns with these 2 simple tips
Submitted by Christian Duncan on | Updated Sat, 17/09/2016 - 23:49
Read time: 13 mins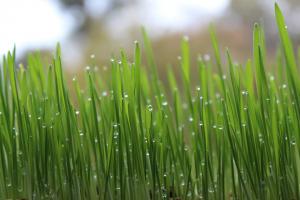 There are many solutions to global warming and reducing one's carbon footprint but what can homeowners do for their lawns? How can you have a "greener" lawn? There are really two main steps you can take to decrease the carbon emissions of your lawn: reduce its size and transition from a gas-powered mower to an electric or reel mower.
Instead of continuing in the same direction, here are a few things that can be done to minimize the impact.
Solutions to global warming: Reduce the size of your lawn
In regards to the first step, you can partition off an area of your lawn that can be transitioned into a garden, where you can grow your own food. Alternatively, you could transition your turf to other native or ornamental grasses such as moss, creeping charlie, and thyme; if you want even better options, you could plant low water ground covers such as anemone and stonecrop. If those sorts of plants are not something you would want in your yard, you could plant different kinds of shrubs and trees. The possibilities are really infinite when you open yourself up to the possibility of other options, which may initially seem unconventional, but once you see a change from the uniform manicured lawn to a landscaped yard that fits your style, it is completely worth it.
If you would rather keep your turf, you could include stones or woodwork that mirror the architecture of your home. If you have a home that has a brick appearance, you could place clay-red stepping stones on top of your lawn and perhaps plant a stone garden, where plants are placed between stones, reducing the area of your yard covered in turf. If the idea of stones intrigues you, there is even an option to use stone mulch either to wholly replace your grass or to implement it in certain areas. Stone mulch is very aesthetically pleasing and would help to make your yard visually unique to the point it would stand out from the other lawns in the neighborhood. The best part about stone mulch is that it does not need to be mowed!
Solutions to global warming: Greener mowers and trimmers
Even though there have been quite a few suggestions, there will be people out there who still want to keep their lawns the same. If you must keep your lawn, then you should at least try and take the first step you to make it more environmentally friendly and healthy for you to maintain. Instead of using gas-powered equipment, use mowers and string trimmers that are electrically powered. They also make manual mowers that require no power than your own!
It's essential to understand the importance that each of these alternatives have in reducing carbon emissions. First, you need to consider the difference between the three kinds of lawn equipment and how much each contributes to global warming. To begin, transitioning from a gas-powered lawnmower to an electric or manual one will greatly cut back on the amount of emissions. Andrea Becker, a writer who graduated from Iowa University with a M.S. in wildlife management, illustrates this in her article, "How to Calculate the Carbon Footprint of Your Lawn Mower." She breaks how many pounds of carbon are produced by a reel mower, an electric mower, and a gas-powered mower. To begin, let's look at the equation she offers for a reel mower. First, you need to determine the calories you burn each year by mowing your lawn, which is as follows: (hours mowing the lawn) x (number of times you mow per year) x (298 calories burned per hour mowing). For this, let's find out the total calories of three different people who only mow over the course of six months each year. Let's say that one person mows once a week, one mows once every other week, and one mows once a month.
Reel Mower Calorie Chart
| | | | |
| --- | --- | --- | --- |
| Hours mowing the lawn | Number of times lawn is mowed per year | Calories burned per hour of mowing (298) | Calories per year |
| 1 | 24 | 298 | 7152 |
| 1 | 12 | 298 | 3576 |
| 1 | 6 | 298 | 1788 |
Now that the calorie numbers have been determined, let's ascertain the carbon footprints of each person. To do this, you have to use the following equation: (calories burned) x (0.0034 pounds of carbon per calorie).
Reel Mower Carbon Footprint Chart
| | | |
| --- | --- | --- |
| Calories per year | Pounds of carbon per calorie | Footprint (rounded) |
| 7152 | 0.0034 | 24 |
| 3576 | 0.0034 | 12 |
| 1788 | 0.0034 | 6 |
As you can see, the correlation between the number of times you mow and how many pounds of carbon produced each year are roughly the same. This factors into several of the alternatives. If you can downsize your lawn by any degree, it would require less time to mow it, which, in turn, would result in you reducing your carbon emissions. By utilizing rock gardens, stonework, groundcover, or stone mulch, you decrease the dimensions of the turf-grass, which means there is far less (or even nothing) to mow. For example, if the size of your lawn requires you to mow it once a week, you produce 24 pounds of carbon per year, but if you reduced the size of your lawn by half through the implementation of any of the aformentioned alternatives, you might only need to mow it every other week, which would also halve your emissions.
Electric mowers are the second-best alternative. To calculate the carbon footprint of electric mowers, you first need to determine the amount electricity needed; the equation is: (hours mowing the lawn) x (number of times you mow per year) x (lawn mower power rating in kilowatts). The power rating can be found in the user manual, on the mower itself, or on the company's website. Let's use the same three people from before using the same electric mower for these calculations.
Electric Mower Electricity Chart
| | | | |
| --- | --- | --- | --- |
| Hours mowing the lawn | Number of times lawn is mowed per year | Mower power rating in kilowatts | Kilowatt-Hours |
| 1 | 24 | 1.5 | 36 |
| 1 | 12 | 1.5 | 18 |
| 1 | 6 | 1.5 | 9 |
Now their carbon footprint needs to be calculated: (kilowatt-hours) x (1 pound carbon per kilowatt-hour).
Electric Mower Carbon Footprint Chart
| | | |
| --- | --- | --- |
| Kilowatt-hours | 1 pound per Kilowatt-hour | Footprint |
| 36 | 1 | 36 |
| 18 | 1 | 18 |
| 9 | 1 | 9 |
It becomes immediately obvious why a reel mower is a better option than an electrical mower. While still not as bad as a gas-powered mower, the carbon footprint of electrical mowers is higher than reel mowers.
Finally, let's finish up by taking a look at gas-powered mowers, which are by far the worst choice. To calculate the carbon footprint of gas-powered mowers, you first need to determine the amount of gas you use per year using this kind of mower; the equation is: (hours mowing the lawn) x (number of times you mow per year) x (gas used per hour). The last bit of information can be found on the manufacturer's website or carefully measured by you (use a certain amount of gas and then keep track of how long it lasts). Let's suggest each person uses the same gas-powered mower.
Gas-Powered Mower Gas Chart
| | | | |
| --- | --- | --- | --- |
| Hours mowing the lawn | Number of times lawn is mowed per year | Gas used per hour | Gas used |
| 1 | 24 | 0.5 | 12 |
| 1 | 12 | 0.5 | 6 |
| 1 | 6 | 0.5 | 3 |
Now, once again, their carbon footprint needs to be calculated: (gas used) x (17.7 pounds of carbon per gallon).
Gas-Powered Mower Carbon Footprint Chart
| | | |
| --- | --- | --- |
| Gas Used | Pounds of carbon per gallon | Footprint (rounded) |
| 12 | 17.7 | 212 |
| 6 | 17.7 | 106 |
| 3 | 17.7 | 53 |
While you could have guessed that gas-powered mowers would be the worst, would you have ever guessed it would be my that much? Reducing the size of your lawn is absolutely essential if you insist on continuing to use a gas-powered mower; however, I think transitioning to an electric or reel mower is a much wiser, safer choice.
With Memorial Day having just passed, many Americans came together with their family and friends to remember the great men and women who died protecting our nation; this day also arrives at the perfect time to celebrate the coming of the summer season. Gatherings on this weekend typically take place at someone's home—you know the one: large two-story house with a fenced-in yard and an extraordinarily verdant lawn the shade of a ripe lime; on this turf, good times are shared by all. Tables and chairs are set up neatly in certain areas near the grill; here, people will enjoy great conversation and equally wonderful food. No one will wonder, not even during croquet or cornhole, about the green blades beneath their feet. However, it may be time to start thinking about the consequences of our manicured lawns. With the surmounting problem of global warming, the ways in which we maintain our traditional lawns needs to change.
One of the most essential preparations before any outdoor social affair is to beautify your property by tending to the landscape, which means mowing, watering, and fertilizing the yard until it is that perfect shade of turf-green. In addition to those three tasks, you may also utilize weed-killer and pesticides to preserve that perfection. But how many of you actually enjoy spending time on maintaining your lawn?
In 2008, a poll conducted by the Consumer Reports National Research Center that consisted of over a thousand homeowners found that 58% of people do not enjoy mowing the lawn. It is interesting to consider that over half of the people who have lawns do not like maintaining them, so why do they? In that same poll, it was determined that 49% felt that people who do not mow their lawns are "lazy or inconsiderate." Even though so many individuals feel that maintaining their lawn is a laborious and tedious chore, nearly the same number harshly judge their neighbors for ignoring their lawns, as if it is a necessary responsibility, which it apparently is.
It is important to consider that local governments and townspeople agree that the responsibility of manicuring lawn is an important one. If you search for the homepage of your town's website, you can find the ordinances that focus on the duties or requirements of tenants who live in your town that relate to the landscape. For example, I live in New Jersey, and in my town of Hazlet, the ordinance requires tenants"to keep such lands free of brush, weeds, dead and dying trees, stumps, roots, obnoxious growths, filth, garbage, trash and debris, where the same are inimical to the preservation of public health, safety or general welfare of the Township, or which may constitute a fire hazard." For many people, this does not seem like an unfair requirement to live in the town. On the other hand, if someone chose not to mow their lawn and let it grow, which is more natural and less hazardous to the environment, there would be harsh consequences. First, the town would issue a warning to clean up the property within ten days; if those ten days pass without the tenant doing the yardwork, a landscaping crew will be hired to "remedy the condition" of the property. Then, the town will pay the landscapers. Unfortunately, you will have to pay back that cost to the town. Additionally, you will either have to pay a fine of up to two-thousand dollars or spend up to ninety days in jail in lieu of payment! One has to wonder when our affinity for manicured lawns started and how it got to this point, where not maintaining it could lead to such drastic consequences.
In the beginning, the earliest lawns were simply grazing pastures, and, even when they evolved a bit, they were a mixture of low-growing meadow and groundcover plants; however, in the nineteenth century, lawns became a representation of one's wealth for the British aristocracy; the short, cut grass fully showed the expanse of the property while also displaying how much the aristocrats could spend on the cost of the upkeep (Jabr). The idea that lawns were a symbol of wealth and prestige was preserved when the tradition was brought over to America. It is easy to connect our hasty judgments of those homeowners who have unkempt lawns because there is a sense of superiority in the fact that we have had the time, money, and right work ethic to fulfill our duty.
Now that it's clear as to how the tradition of manicured lawns began and why it's continued, it's important to consider the effects of lawn maintenance including mowing and watering. First, it is essential to understand that while lawns reduce greenhouse gas emissions, our maintenance of them offsets that reduction. In a study by Amy Townsend-Small, an assistant professor of geology at the University of Cincinnati titled, "Carbon Sequestration and Green House Gas Emissions in Urban Turf," she found, after a correction, that if lawns are "managed conservatively," there is a potential for them to reduce carbon emissions; however, she also argues that "intense management practices such as frequent application of inorganic fertilizers, irrigation, and fuel consumption from mowing and leaf blowing all decrease the likelihood that urban turfgrass can mitigate greenhouse gas emissions in cities." Similarly, Mark Hostetler, a professor at the Department of Wildlife Ecology & Conservation at the University of Florida discovered that "urban areas that have a large amount of mowed, irrigated, fertilized lawns and pruned shrubs and trees can be a source of carbon dioxide rather than a sink." He continues, arguing that "these carbon dioxide emissions are not trivial; for example, a 4-hectare" (about 10 acres) "greenspace in Miami-Dade with 85 percent of the land covered in lawn would emit over 11 tons of carbon dioxide per year." It is important to note that not all homeowners have ten acre lawns (some have more while others have less); nevertheless, the emissions produced through maintenance can likely exceed the benefits a lawn might have, especially when you factor in that lawns in America constitute between thirty and forty million acres (Polycarpou).
Furthermore, the harmful emissions produced by lawn maintenance not only harm the environment but also the caretaker. In a study titled, "National Emissions from Lawn and Garden Equipment," it was determined that gas-powered lawn and garden equipment is "a prevalent source of toxic and carcinogenic emissions" that considerably adds to several nonroad emissions and cause "adverse health effects" including but not limited to cancer. The study was conducted by Jamie Banks, an environmental scientist and executive director of a nonprofit organization called Quiet Communities that focuses on raising awareness about the effects that the excess use of maintenance equipment has on the health of people and the environment, and Robert McConnell, an environmental engineer with the EPA. They contend that any people close to the source of the emissions risk their health, including the maintenance workers as well as the public.
In addition to being mowed, lawns also need to be watered. The Environmental Protection Agency states that the "average American family uses 320 gallons of water per day, about 30 percent of which is devoted to outdoor uses. More than half of that outdoor water is used for watering lawns and gardens." It is a tremendous waste of water.
As it is clear by now, lawncare might appear aesthetically pleasing, but the consequences are simply not worth it. Instead of continuing in the same direction, many things can be done to alleviate or minimize these issues.
Though Robert Frost considered that "good fences make good neighbors," in his poem "Mending Wall," I would also contend that he would agree that well-tended lawns preserves those relationships. Consider a neighbor whose home that has overgrown grasses or an unkempt landscape; it is easy to pass judgment on those who do not abide by the great American tradition of lawn grooming, but is that preferred aesthetic truly worth the damage it causes to the environment and you? I think it is evident that the alternatives are better, and, even if you want to keep that traditional lawn, you can still do your part in making the process healthier for you and the environment.
Works Cited
Banks, Jamie L., PhD, MS, and Robert McConnell. "National Emissions from Lawn and Garden Equipment." Environmental Protection Agency, 16 Apr. 2015. Web. 6 June 2016. <Link>
Becker, Andrea, M.S. "How to Calculate the Carbon Footprint of Your Lawn Mower." Opposing Views. Opposing Views, n.d. Web. 06 June 2016. <Link>
Frost, Robert. "Mending Wall." Poets.org. Academy of American Poets, n.d. Web. 06 June 2016. <Link>
Hostetler, Mark. "Do Lawns Contribute to Climate Change?" Huffington Post. Huffington Post, 30 June 2012. Web. 06 June 2016. <Link>
Jabr, Ferris. "Outgrowing the Traditional Grass Lawn." Scientific American Blog Network. Nature America, Inc., 29 June 2013. Web. 06 June 2016. <Link>
"Low-Maintenance Lawn Alternatives." Planet Natural. Planet Natural, n.d. Web. 06 June 2016. <Link>
"New Consumer Reports' Poll Reveals America's Take on Lawn Care." Consumer Reports. Consumer Reports, 01 May 2008. Web. 06 June 2016. <Link>
New Jersey. Township Committee of Hazlet. "Chapter 145: Brush, Grass, and Weeds." Code of the Township of Hazlet. Ecode360, 15 Dec. 2015. Web. 6 June 2016. <Link>
Pepper, Eugene, and Beverly Migliore. Report on Lawn Care Pesticide Use. Rhode Island Department of Environmental Management, Feb. 2008. Web. 6 June 2016. <Link>
Polycarpou, Lakis. "The Problem of Lawns." State of the Planet. Earth Institute, Columbia University, 04 June 2010. Web. 06 June 2016. <Link>
Townsend-Small, Amy, and Claudia I. Czimezik. Correction to "Carbon Sequestration and Greenhouse Gas Emissions in Urban Turf." ResearchGate, 27 Mar. 2010. Web. 06 June 2016. <Link>
"US Outdoor Water Use." WaterSense. Environmental Protection Agency, 16 May 2016. Web. 06 June 2016. <Link>
You will save the Earth by sharing and/or tweeting (corny right?)