Meatless Monday: Your guide to healthy + easy vegetarian meals
Submitted by Miranda Maisto and Lauren Kaye on | Updated Tue, 31/12/2019 - 06:39
Read time: 21 mins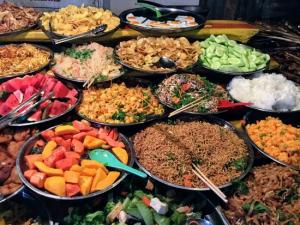 You've thought of doing Meatless Monday. Who doesn't want to feel healthier and loose a bit of weight? But Mondays are complicated. Are there any easy vegetarian meals that you can put together even when you get home late? Plus it's hard enough finding the time to make a decent dinner but now it's veggies only? Are these healthy vegetarian meals going to be boring or worse, taste like green mush?
Monday is not exactly the most convenient day to start learning a whole bunch of new recipes, so if it's too complicated forget about it.
And the food has to taste great. Eating healthy is nice but taste comes first. So it can't be just a bowl of lettuce and tomatoes.
Not to worry, the recipes below have all of this in mind. Delicious options that are easy to prepare and can be done in 15 minutes or less.
No weird ingredients and they won't leave you hangry in an hour, we pinky promise.
While you've heard about the benefits of adding more plants to your diet, there are also concerns. How will you get enough protein?
What about iron? Will you feel slow and weak every Monday?
It's the opposite because with Meatless Monday your diet becomes more nutritious. Getting your protein from plants and other vegetarian sources makes space on your plate for a whole bunch of great nutrients. This is because they are packed with essential vitamins, fiber, minerals and antioxidants, all while reducing saturated fats which will help you loose some weight.
But meat tastes amazing, how can I go a whole day without it?
One thing many people don't often realize is that a lot of the time it's the seasonings you add that creates most of the flavor for your favorite foods and this is true for meat-free meals too.
With the right recipes, you'll be feeling just as satisfied as with your favorite meat dishes and we've got you covered there for sure with the ones we'll be sharing below.
What about the costs? Some people say it's expensive to eat healthy meatless meals, but that's a myth. It will actually cost you less because meat is usually more expensive than vegetarian proteins. By skipping out on beef, pork, chicken, or fish one day a week, it's possible to cut $106 per year on your grocery bill.
That's $106 you can spend on yourself as a gift for eating extra healthy. Spa visit this weekend? Upgrade your Netflix? Or maybe some cooking classes to make Meatless Monday even more yummy?
That sounds awesome but do I now have to worry about a whole bunch of meal planning and research every week?
Relax, we've got tips and tricks like apps to automatically make the grocery list for that amazing recipe you just found, to options for ordering the ingredients online, as well as step-by-step cooking videos that will make sure your Meatless Monday is a breeze.
If you are eating out, take a look at our list of the best vegetarian restaurant apps. With plenty of options to chose from you won't be feeling limited.
And that's what Meatless Monday is all about. We want to introduce you to new meals so you can discover new tastes, which will end up giving you more options, not less.
By going for this small change in your diet, you'll be taking steps towards a happier and healthier you.
Oh and it will also make you more eco friendly. Skipping meat one day per week for one year would remove 1.4 times more CO2 pollution than an average sized backyard full of trees. i, ii, iii
It's one of the easiest ways to make a big difference because this small change will shrink your carbon footprint, put money back in your wallet and improve your health.
Here's a quick summary of the benefits:
Money

Average savings

Cut your grocery bill by $106 per year

Initial cost

$0

How long to get back your money

Immediate

Carbon footprint

Average CO2 savings

Shrink your carbon footprint by 387 lbs of CO2 when compared to the standard daily diet

Health

Feel happier and healthier

Meatless Monday improves not only your health, skin and waistline, it boosts your happiness as well
If you found this article or someone passed it along to you, your diet is probably pretty well-balanced already.
But there's an endless amount of research on the heath benefits of a vegetarian diet, maybe you could be doing better?
The thing is that most people don't want to switch to veggies only.
Meat just tastes too damn good.
We've all heard that eating nuts, grains, fruits and vegetables is great for your health.
But is there any point to skipping meat just once a week?
Well as a matter of fact there is.
Several studies have shown that even just a casual reduction in consumption, like with Meatless Monday, can cause a 48% lower rate of obesity which leads to a significantly lower body mass index, smaller waist size and lower body weight. iv, v, vi
Besides that it can aid in reducing the risks of diabetes (25%-33%) and heart disease (10%-19%). vii, viii
Moreover many of the vitamins and antioxidants in fruits and veggies will get your skin glowing on Mondays.
For example, the lycopene in tomatoes, or beta-carotene in carrots, protect your skin from sun damage, and the vitamin C in oranges smooths wrinkles by stimulating the production of collagen. ix, x, xi, xii, xiii
Going vegetarian, even if it's once a week, benefits not only your well-being, skin and waistline, it brings you happiness as well.
Research shows that on days when people ate greater amounts of fruits and vegetables, they reported feeling calmer, happier and had higher energy levels than they normally do. Plus they felt more positive the next day. xiv, xv, xvi
Your fitness goals will also get a boost on Meatless Mondays.
Whether you're looking to get an edge for faster muscle gains or pushing your endurance, plant foods will get you to the next level. They have micronutrients and phytochemicals that reduce muscle damage after exercise as well as improve recovery time because of their anti-inflammatory properties. xvii, xviii, xix
And as an added bonus you'll burn more fat outside of the gym.
A vegetarian diet generally has more good fats like those found in nuts and seeds which increases the absorption of weight loss aiding-fats. xx, xxi, xxii, xxiii
On top of that, many of the same antioxidants that protect the body can stimulate your metabolism, making you slimmer. xxiv, xxv
Maybe you've tried going the chemical route. Supplements can give you a quick boost but long term adding a bit more natural whole plant foods to your diet is best. Having that extra bit of control over what you put in your body will go a long way.
All in all, switching out meat once a week will make you look younger as well as feel healthier and more energetic.
But wait, usually eating healthy is expensive. How much will Meatless Monday really cost?
Getting started won't cost you anything more than a regular trip to your favorite grocery store and on average you'll end up saving by going vegetarian.
Going meatless once a week will cut your grocery bill by $106 per year. xxvi
This small change can teach you some great tricks to save money and we'll show you how to make meat-free meals without overspending on organic produce or specialty ingredients.
If you need further proof that vegetarian meals are budget-friendly, head on over to Google and you'll find find tons of sites that focus on low cost dishes. To help you out, we've tracked down some of the best.
More on that later on in the article.
Another reason to give it a try is all the international cuisines that are by nature meat-free. Think Italian pastas, Asian noodle dishes, Indian curries, Greek salads, Polish pierogies and the list keeps going. You won't feel as if you're missing options when there is a whole culinary world to explore.
Finally one of the least mentioned benefits of vegetarian cooking is the time you'll be saving. Rather than having to wait 30 minutes or more to defrost, prepare and cook a piece of meat, there are tons of meat-free meals that take only a few minutes to make.
The convenience that comes with Meatless Mondays means there is one less thing to worry about, especially if you end up running late and have to whip up something fast.
Plus squeezing in healthy meals will be a breeze with our tips and tricks. Perfect for when your schedule changes on short notice or you end up feeling zapped of energy after a long day.
We've also put together a list of awesome sites and apps where you can find easy yet tasty recipes that take 15 minutes or less to prepare.
With recipes that quick you might want to do an extra one from the desserts section to satisfy your sweet tooth.
Probably can even squeeze in some time for sharing photos of the yummy food you made with friends and family, as well as some humble brags. They'll all be wondering how you found the time but we'll keep that secret between us.
Meatless Monday can be a way to try some great new dishes and add some variety to an ordinarily humdrum day of the week.
You made it fresh, so you know what's in it and you know it's healthy.
Knowing that these meals will be ready in only 15 minutes takes the worry out of it and that's fun. Making something that is good for you also means you'll be taking some time to care for yourself.
The best part of trying it out is that you don't have to commit to anything extreme. All you have to do is go meat-free once a week to achieve all of those benefits.
Can you start Meatless Monday today?
Sounds impossible right? You didn't search for recipes, get the necessary ingredients and certainly don't have extra time to figure out how to make a meal you've never done before, with the results being god knows what.
Not to worry, you don't have to be searching for Grandma's special sauce recipes, churning your own butter or growing kale at home to have tasty meals.
And you can surely skip the quick-fix prepared foods and all their chemical preservatives to pull off a meatless meal on a busy Monday.
That's because some of the best free recipe apps out there can also take care of all of the details to make Meatless Monday a breeze.
Yummly and Allrecipes have thousands of quick and easy vegetarian recipes that are ready in 15 minutes or less.
What's great is that they will automatically take the recipes you select and turn them into a shopping list.
No time to pass by the grocery store? No problem, these apps have the option to order everything online and have it delivered.
Like that you can skip getting stuck in the checkout line and worrying about when you'll get started.
You can also pick recipes based on the ingredients in your pantry and fridge which is super convenient when you need to whip up something last minute.
Making sure the meals taste delicious are pretty much guaranteed with step by step instructions including video tutorials, letting you feel confident and in control when trying out new dishes.
Nutritional info is also included so that you know what's in these meals. Plus you can make sure that you're getting all the protein, iron and other essential nutrients needed.
That's great but how about if you already have some recipes in mind?
Maybe you just saw a photo of a delicious vegetarian meal idea on Facebook and you'd love to give it try but you just don't have the time to pick up all the ingredients.
Or you saved a few recipes because you've been thinking of trying Meatless Monday but you've been waiting to catch the items that are missing at home on sale.
Paprika and Prepear have got you covered, they allow you to import recipes from just about any website plus create a grocery list for all the ingredients you need. From there you can send the list to apps like Coupons.com which will help you find which stores have what you need for the lowest price. Then depending on how much time you have you can go shop for yourself, order online and pick it up or opt for home delivery.
While you'll hear often that eating healthy ends up taking more time and money, it's simply not true.
As we mentioned before going vegetarian just once a week cuts your grocery billxxvi and you won't have to buy a ton of things in bulk or get a new freezer to keep costs down.
But you don't have to take our word for it, there's plenty of great budget recipe sites out there. Here we've listed our favorites and selected from each a recipe that costs two dollars or less to make.
They only take 15 minutes to prepare and the costs were all calculated using regular grocery store sized items, so you'll be able to pull off these yummy recipes easily all while cutting your costs.
Cheap Vegetarian Meals (Under $2)
Easy Vegetarian Recipes (5 Minute Meals)
Ok some of these recipes look interesting but what happens if you really have no time at all on Monday for cooking?
How about some five minute meals to the rescue.
Here are some of our most favorite, no muss, no fuss meals that are ready in five minutes.
If you want to check out more super quick Meatless Monday recipes, Yummly has this great search feature that allows you to find vegetarian recipes that can be made in 5 minutes or less. With tons of options you can narrow down the search by things like a specific type of cuisine you've been wanting to try out or ingredients you have on hand.
All of this just goes to show you that plenty of healthy meals are quick and easy to make without being crazy expensive.
So maybe trying a meatless meal this week won't be that hard but how about a few more options?
Would be great if they taste awesome and take 15 minutes or less to prepare.
Ok no problem, challenge accepted.
Everyone's got their own preferences for what counts as awesome food but with the help of our Recipe Research Team we've come up with a super scientific classification system for finding the best Meatless Monday recipes out there that can be made in 15 minutes or less. So without further fanfare here are...
Burgers make us happy because they are juicy, stuffable and stackable.
While the frozen-food aisle is packed with different varieties of veggie burgers, you'll never want to eat frozen ones again after trying any of these recipes.
They are super easy to make plus won't disappoint on texture and flavor. You'll be proud to have made something vegetarian that's this satisfying.
The burrito is one of the few foods that can be eaten every meal of the day, so here are some flavor packed burrito recipes.
They are way better than what can be done with a packet of Old El Paso and don't take that much more time either.
Burritos are one of those meals that truly never get old, there are a million ways to customize them.
Feel free to improvise with these recipes, you can switch in what you have on hand or add your favorite ingredients that you are craving for.
These recipes just go to show that meatless meals can have all the savory flavors and familiar textures you love.
They use whole foods as ingredients so you won't find any meat substitutes with funny ingredients here.
The dishes here are hearty, saucy, "meaty," and delicious.
So satisfying, you'll end up making them whether it's Meatless Mondays or not.
If only everything in life were as reliably yummy as noodles. Slurped up with a great sauce or layered under creamy cheese, everyone has a favorite noodle dish.
For many it's the ultimate comfort food.
These healthy recipes will satisfy your cravings without the glutton and guilt.
They make for great suppertime meals because with minimal fuss, you can produce something heavenly. Which is a welcome end note to your day.
Pizza can make Meatless Monday a lot easier.
It's convenient, healthy, inexpensive, quick and you can eat it any time of the day.
Plus there are so many types and different topping combinations that it's hard to ever get sick of it.
Each of these recipes has a savory sauce, perfect crust and melty cheese so you can rediscover the joy of homemade pizza on Mondays.
When people hear "salad" they might think of a sad, wilted bowl of lettuce with a few lonely pieces of tomato and cucumber.
But don't worry, we've got some delicious hearty salads that are easy to make and won't leave you starving an hour later.
Your body will say 'thank you' after these nutrition packed salads.
Plus each one is like a flavor bomb in your mouth, with the magic in the amazing homemade dressings.
Get the whole family in on Meatless Monday with these fun vegetarian recipes kids will love.
Simple, back to the basics, no questions asked good food that tastes yummy.
These vegetarian meals for kids will leave them smiling and asking for seconds.
All without compromising on health and nutrients.
Anything buffalo flavored is absolutely delicious but are meatless options any good?
Whether it's for game day or just to make sure that craving is satisfied these dishes pack all the kicky and tangy flavors you expect.
Plus these recipes come with the added bonus of more fiber and fewer calories making them secretly healthy.
All the buffalo sauciness without the guilt.
All the recipes on this page can be done in 15 minutes or less but if you got time for more advanced ones check out this section.
Easy meals are essential but once in a while its fun putting in the work for bigger recipes.
When you have a little extra time, try your hand at these delicious classic vegetarian dishes.
You want to start your day of right but often there isn't enough time for a proper breakfast.
Is the only option a sad cereal bar?
Of course not, here are some vegetarian breakfast options that are full of nutrients and taste great.
These recipes come together in minutes, so you can make sure to start your day with yum.
Sometimes you don't have time to sit down for a meal. It's just easier to get some snacks to keep going and stay focused.
While there are plenty of good store bought ones, it's best if you can be in control of things like sodium and calories.
These easy to make snack recipes are full of protein plus other good-for-you ingredients and most certainly don't compromise on flavor.
They fill you up without weighing you down, making them perfect as a desk breakfast, mid-afternoon pick-me-up or for times when you just need to satisfy a craving.
Admit it, eating dessert makes your day better.
These stupid-easy desserts look like a pro chef made them plus they are ready in 15 minutes or less.
No need for portion control here, these desserts are full of healthy nutients like extra protein and good oils.
Compared to the stuff you buy at the store which is typically overloaded with sugar and chemicals, these are clean eating desserts so you can whip one up and eat it all guilt free.
Restaurants and delivery, what are the option?
When you don't have time to cook, it's delivery or eating out. Whether it's for date night, breakfast in bed or hunger from a late night study session you don't have to worry about being limited on Meatless Mondays.
A quick search on Google or Facebook will give you plenty to choose from. Popular review sites like Yelp, Zomato and Foursquare are great options as well. HappyCow and Vanilla Bean focus on vegetarian restaurants exclusively which makes picking something tasty a breeze. When you are interested in delivery go for apps such as Uber Eats, Grubhub and DoorDash.
Use searches like "vegetarian", "vegetarian restaurants" or "vegetarian restaurants near me".
You can then filter by those that are open now as well as rating, price and distance.
Between photos of the food they serve and customer reviews you're sure to find something delicious.
Vegetarian restaurants offer awesome choices but you might want something fast.
Chain restaurants like Burger King, Chipotle, Five Guys, Quiznos, Starbucks, Subway, Taco Bell, White Castle and any pizza joint all have options on the menu.
Things like burrito bowls, subs, pizzas, sandwiches, tacos and veggie burgers with all the fixings are available at these places when you are in a hurry.
Check out these two articles from CookingLight and Insider for more restaurant and meal ideas when you need something quick.
Finally when in doubt, international restaurants are particularly great places to find tasty meat-free meals. They have dishes that are naturally vegetarian-friendly or can be easily modified to become so. Chinese, Indian, Italian, Japanese, Mexican and Thai restaurants all have things on the menu that will make your taste buds happy.
What if the restaurant has been picked already?
Start by checking their menu online to see what are the options.
While most restaurants will have at least one vegetarian dish, if you don't see anything try giving them a call.
Restaurants want you to be happy and they want you to come back, so don't assume that what is on the menu is all they have to offer. You'll be surprised how accommodating people are, especially when asked kindly.
Ask what other options are available or try customizing dishes by substituting the meat with others items off the menu, this works well.
It is actually pretty neat how many chefs are willing to try their hand at something vegetarian, just to get a chance to do something different and express their creativity.
If you didn't have time to scope out things in advance, check with the staff once you get there to see if they can accommodate requests or steer you toward options not listed on the menu.
And don't forget to check out the appetizers and side dishes, if they look good you can order several of them to make up a meal.
Asking for special requests can feel like a huge pain but we pay enough as it is to eat out, so you might as well have what you want. After doing it a couple of times you'll get more comfortable with it and realize its not that big of a deal.
A bonus little perk about getting a specially ordered dish will be the jealous looks you get from people thinking how great your food looks compared to theirs.
Eating at a friend's house and family occasions
You could skip Meatless Monday if it happens to fall on the same day as fun events like birthdays or dinner invitations. Like that you don't have to worry about sticking out from the crowd.
The thing is that your friends and family are not the ones that will have to live with your health choices, so it's best to focus on what's right for you.
Instead of skipping Meatless Monday, you can always make something at home and bring it along to share with everyone. Just let the hosts know in advance that you are trying out Meatless Monday and that you would like to bring a dish or two so that they don't have to worry about you. This way, they don't get stressed out and you can show them how delicious it is to try Meatless Monday.
With the recipes listed above you can whip up something quick that will surely have people asking for seconds, as well as the recipe.
Don't forget you can always use some of the food delivery apps we mentioned earlier if you don't have time to cook. That way you can still show up with tasty options for yourself and others to try.
If you're turning down a dish and getting questioned on why, just let them know that the food looks great but you're just trying something different today.
Live with people new to Meatless Monday?
A low-key approach will make people you live with more open to meat-free meals. Nobody wants to feel judged, if they want to learn more they'll ask.
Some might be worried about your health or the cost of food. Let them know that you understand their concerns and share what you've learned about the true costs of vegetarian meals or how getting nutritious meals on Meatless Monday is not that hard.
If the conversations continues use the "It seems..." strategy. "It seems to be working for me", or "My doctor seems to think I'm getting enough protein". This sends a clear signal that you are not competing with their status, you are not the expert towering over them. You are not completely sure about all of this, but it seems to be working for you.
If the questions keep coming, simply say "It's just an experiment - it's just something I'm trying. It might not be right for everyone. We'll see what happens." This positions you as the stumbling Mr. Magoo instead of the pretentious know-it-all.
At the end of the day, trying Meatless Monday is a personal choice. But by thinking a bit about how to communicate that will reduce concerns and awkwardness.
Focus on yourself and the personal benefits you are interested in instead of what other people are doing.
Don't worry about labeling yourself, every meal eaten veggie style is a good step forward.
When trying something new it helps if the important people in your life are accepting and supportive. Sometimes that might take a while but if you're patient and kind, in time they'll come around.
Is trying Meatless Monday worth it?
If you go meatless once a week, there's a lot to think about to make sure everything goes well. Many common questions can make you hesitate trying out Meatless Monday so here are some answers to the most frequently asked ones.
Meat tastes amazing, can I go a whole day without it?
Taste is so important, we love the food we love. And meat certainly tastes good, but most of the time it's the seasonings you add that give it its flavor. This goes for veggies and plant-based proteins too. With the right recipes, your meat-free meals can leave you just as satisfied as your favorite meat ones. The fun part of trying something different is that it gives you the chance to discover new foods to love. So go for savory meals like the ones in our vegetarian meat lovers section above when you are craving the taste of meat on Meatless Monday.
Can I avoid being hungry all day?
One of the most common things people worry about with meatless dishes is that they won't fill you up.
If you're hungry after a meat-free meal, you are probably not getting enough fiber, fat, or protein.
Next time go for more hearty vegetarian options made with fiber- and nutrient-rich whole foods. This can be done easily by bulking up your menu a bit with nuts, beans and grains.
Can I stop my meals from being boring?
If you are feeling that taste is lacking in a meatless meal, you might need to add some umami.
Umami is the taste sensation that makes food savory, complex and deeply flavorful. While most meat-based dishes have this, some vegetables have more of the meaty unami flavor than others. Mushrooms, tomatoes, cabbage and eggplant are good examples.
You can also use these vegetarian foods as seasoning to boost savoriness:
Fermented foods (such as soy sauce, sauerkraut and balsamic vinegar)

Tomato sauce

Nutritional yeast

Toasted nuts and seeds

Savory spices (such as cumin and rosemary)

Vegetable broth
No meat doesn't mean no fun. Learning new ways to mix and match foods helps you discover a whole new world of food possibilities.
Can I avoid turning Meatless Mondays into Carb Mondays?
When you first start out, one easy way to cut out meat is to have more of everything else. Larger portions of pasta, extra fries or more garlic bread. Another option is to snack your way through Meatless Monday. And while this all sounds delicious, it won't give you much of a health boost.
Sure everybody can use a quick pick me up when hunger strikes and snacks are a great way to do that. Heck sometimes you need to replace a whole meal with snacks just cause you're short on time. But if you fill up on chips, pretzels, and cookies all day, every Monday you'll be missing out on the great benefits of a vegetarian diet that we mentioned earlier.
If it wasn't possible this Monday, it's better to have more balanced meals with meat and then just try to go meatless later on in the week.
How will you get enough protein?
A lot of people worry that they won't get enough protein if they eat vegetarian meals. But getting enough protein isn't as hard as you may think.
You only need to have around 50 grams each day and almost every food contains some protein.xxvii
So as long as you're eating enough calories to maintain a healthy weight, you're almost certain to get enough.
This is why protein deficiency is very rare, even in full-time vegetarians.
While it may seem difficult at first to get your full daily dose of protein with meat-free foods, adding a few high-protein vegetarian options like chickpeas, eggs, cheese, tofu, lentils, whole grains, nuts and seeds into your diet will help you stay strong plus feel healthier.
More examples with recipes can be found here in our article: 49 vegetarian proteins that are as good as meat.
Most of the recipes there and on this page have nutritional information so you'll be able to make sure you are getting enough protein. If ever the info is missing, you can import the recipe in an app like myfitnesspal.com which looks up all the details with just a few clicks.
How will you get enough calcium and iron?
Many people are initially worried about getting enough nutrients like calcium and iron when trying meatless meals.
The best part about getting your protein from plants and other vegetarian sources is that it comes packaged with many other healthy nutrients like vitamins, fiber, iron, calcium and antioxidants.
So that means you get an extra dose when having meat-free foods.
For example, if you're having nuts like almonds, dark leafy greens or seeds with vegetarian proteins like beans, tofu or dairy that means extra sources of calcium for maintaining strong bones.xxviii
Greens like spinach or broccoli, grains like quinoa as well as seeds and nuts like pumpkin seeds or cashews are all great sources of iron. Combining that with a vegetarian protein like lentils, tofu or chickpeas will give you more sources of iron to help keep your energy levels up.xxix
If you want to boost that further just add in some high vitamin C foods like oranges, kiwis or strawberries which increases iron absorption by up to 300-600%.xxx
All this goes to show that instead of taking things away from your plate, Meatless Monday can easily pack more nutrients into your meals.
Should I avoid exercising if I'm not eating meat?
There's no need to avoid exercise on Meatless Monday. As discussed above, you can easily get the energy, protein and other nutrients you need to fuel all of your usual activities including your workouts with healthy meatless meals. In fact, vegetarian dishes can provide a competitive edge by adding more antioxidant and phytochemical to your diet, which helps you recover faster.
I don't have time for tons of research and planning, can I really start Meatless Monday that easily?
Meat has a lot of convenience. When you have to rush home after a long day to start cooking dinner, it's just easier to grab some meat and start from there. Convenience is key and that's why all the recipes we listed in this article take 15 minutes or less to make.
If you didn't start cooking with Grandma at the age of four no worries. You won't need any special cooking skills or extensive preparation here, all the meals we've selected are easy and delicious.
With these recipes there's no need for a huge amount of planning so you can get them done on a busy weekday night. They can fit easily into your regular routine, even when there's a sudden change to your schedule.
These everyday recipes won't overwhelm you.
You can start Meatless Monday without having to rack your brain on what to eat instead of meat. Between the recipe apps and the dishes mentioned above you'll have a whole bunch of tasty options that you can try out today. You could save a bit of time and energy in food preparation by relying on a meat based meal but a better option would be to use around 15 minutes of your time to get a nice health boost, week after week.
Does it have to be on Monday?
The idea behind Meatless Monday is starting the week on a positive and healthful note but what happens if Monday is too busy of a day this week?
Feel free to plan it for another day. It's important that you are doing what works best for you so if Thursday works better, then go for that.
The important thing isn't that it's a Monday. It's that you are working towards consistently going meatless once a week and we'll be here to help.
Without more time or money can I really eat more healthy?
You don't need to empty your closet so you can buy things in bulk or comb the internet for coupons to make Meatless Monday affordable. There's no need to balance time, cost and health because with our recipe suggestions all three of these are covered.
Healthy foods often come in smaller portions but the recipes from our two dollar meal section make sure you get a better value for your money. These low cost meals can be made in 15 minutes or less and have all the health benefits that come with being meatless. When you get bored with the ones listed above you can visit sites like Budget Bytes and Frugal Nutrition to find more.
What if I miss Meatless Monday?
Don't throw in the towel. It's not about being perfect. It's about making small changes. You can't forget to be nice to yourself. If you miss the day you planned to eat meatless, just try again on another one that works.
Track your progress. It helps to keep track of what you've done. A visual reminder might provide exactly the motivation you need to stick with Meatless Monday on a tough day. Mark your calendar or make a little journal of your efforts to see your progress over time.
Remember that perfection isn't the goal here, none of us are perfect. It's far better to eat more vegetarian dishes, than to do nothing at all. Focus on all the amazing choices you've made to date instead of that time when you slipped up. Celebrate those choices, and allow them to start adding up.
This isn't a test of personal fortitude, it's about the sincere intention to do something good for yourself. Getting overly worked up about being "perfect" can actually obscure that intention, not to mention rob all the fun out of Meatless Monday.
We'd all like to eat more healthy but can I really afford that?
Adding a few meatless meals to your week shouldn't be costing you more, in fact if you did it all year you would cut your grocery bills by around $106.
But if you are worried about your budget, here are some extra tips you can use to cut costs even further every week.
Jotting down what you need from the store will not only help you stay within your budget, it'll keep you from impulse buys once you're there. Many of the apps in this article help you make a grocery list from the recipes you select so make a list and stick to it.
You'll fall in love with some of the recipes you'll try on your Meatless Monday adventures. For those ones it makes a lot of sense (and dollars) to stock up on the base ingredients when you find them on special.
You could buy staples like grains, beans, and nuts in the bulk bin section, but if space is tight at home don't be afraid to substitute.
When a recipe calls for chia seeds or toasted sesame oil or tamari, by all means leave it out if you don't already have it. It's fun to make authentic recipes and do them right, but if it's going to make the difference between you trying meat-free meals or not, skip the fancy stuff at first.
Especially when it's something you'll have to buy a whole bottle or jar of, and you won't use it again any time soon. Making meals with what you have, rather than running to the store every Monday to buy special ingredients really helps to cut costs and save time.
When buying your fruit and vegetables, remember that it doesn't always have to be fresh. Instead of worrying about things going bad try keeping some frozen, canned and dried items on hand. They last much longer and you don't need to use them all at once which prevents waste.
This will let you include a bigger variety of fruit and vegetables in your diet without breaking the bank.
If you have a bit of extra time you could also buy what's in season to get the best deals and do some of the prep work in advance. Like that you can make those 15 minute recipes in even less time, perfect for when your schedule gets slammed. On those days you just want to get home and eat immediately, so this will help.
Processing ingredients in advance or cooking large meals and freezing for later will also cut costs even further.
How can you make sure to fit in Meatless Monday into your week every week?
You had fun trying a few meatless meals. The food tasted great and it was way easier that you thought plus you felt a little bit healthier. Now how can you make Meatless Monday a regular part of your week?
Keep a binder or list of recipes plus restaurant meals you've tried and liked.
If you use a calendar, make note of the meals you want to prepare on the days you'll eat vegetarian. Then, you can plan ahead and won't need to skip Meatless Monday because you don't have something tasty in mind.
Try to always have some basic ingredients at home, such as rice, pasta, frozen vegetables and canned beans. This way you'll always have the start of a healthy meal.
Meatless Monday is really about what you add to your diet and not what you take away. The more you focus on all the new foods you try, the less you'll feel like you are missing out.
You'll be pleasantly surprised by the wide variety of foods you can eat on a plant-based diet. If you are feeling stuck in a rut, challenge yourself to try one new recipe this week from the ones in this article.
Don't worry about hidden ingredients. Sometimes its really tough if not damn near impossible to know if the last fraction of a percent of animal-derived rennet is removed from your cheese, or whether the restaurant you're eating at used chicken stock to season the rice. So do your best but don't sweat the small stuff.
Find community and support. Change can feel lonely sometimes and can make it seem like you stand out. Having the support of others can go a long way, so check with friends and family to see who is interested in discovering vegetarian foods with you. They may not want to do Meatless Monday every week but might be interested to help as recipe testers when you try a new meal.
Otherwise you can try branching out into your community, exploring Meatless Monday potlucks, restaurants or meetup groups. You can also find support online by joining forums or reading and commenting on blogs.
Vegetarian cooking courses are also an option to meet people on the same journey as you all while learning about new foods and picking up different cooking skills. To find courses online or in person take a look on Google otherwise try sites like Udemy or Eventbrite.
Get an easy and yummy health boost every Meatless Monday
Maybe a health scare prompted you to think about your diet. Or maybe a new addition to the family made you wonder on how to get more nutritious meals on the table. Or maybe you were just looking for an edge to help with your next fitness goal.
The thing is that between work, social activities and family commitments you don't always have the time or energy to eat healthy.
But for a meal to be healthy you don't have to buy everything from a farmer's market or labor on home made fresh pasta. Investing a little time and putting a bit of love into a meal is all it takes to have better control over the food you put in your body.
If your schedule often dictates a quick meal, that's no problem because all the Meatless Monday recipes we've found for you get food on the table in 15 minutes or less.
Don't bother yourself with complicated Meatless Monday recipes that don't consider how busy Mondays can be. The ones we've selected here have got you covered.
15 minutes or less of your time is all it takes to get a nice health boost, week after week.
And you'll get that without needing a slow cooker or any complicated planning.
Knowing that any of these meals are quick and healthy is a great relief but taste trumps everything.
Not to worry, Meatless Monday doesn't mean you're resigned to eating endless amounts of garden salads or empty meals that leave you suffering in an hour. Give the recipes we suggest a try. You'll see that meatless doesn't mean tasteless, with tons of filling options that are absolutely yummy.
Reducing the amount of meat in your diet is an easy change that costs you nothing more then one of your regular trips to the grocery store and over the next few weeks you'll see that it actually saves you money.
Take a bit of time for yourself this week with Meatless Monday. There's a ridiculous amount of benefits in it for you because with one small change you help the environment, your wallet plus your health. And when you've got options this tasty, why not?
You will save the Earth by sharing and/or tweeting (corny right?)