Going by plane? Here are 5 tips to help reduce your carbon footprint
Submitted by Cédrine on | Updated Sat, 17/09/2016 - 23:49
Read time: 5 mins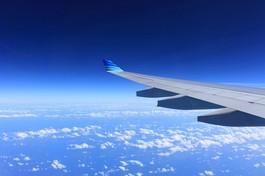 In 2013, domestic commercial flights accounted for 6.4% of US travel-related greenhouse gas emissions, making it the fourth-largest source of CO2 emissions in the transportation sector.1
The airline industry has evolved considerably since its beginnings. New fuel-efficient aircrafts as well as greener airports have contributed to the improvement of air travel efficiency by 20% since 2000, saving U.S. airlines $33 billion on fuel and preventing 303.9 million tons of CO2 from being released into the atmosphere.2 Despite this significant progress, it is often recommended to choose an alternative to flying, as individual trips by air have a remarkably large carbon footprint.
Before traveling, it is necessary to consider the reasons for your trip and opt for the most sustainable way of transport. For unavoidable flights, here are some tips that will help you to reduce your carbon footprint:
Chose an eco-friendly airline: As a response to customers' growing environmental awareness, airlines have started to take various environmentally friendly initiatives. In a 2012 report, Greenopia, an independent rating system for eco-friendly businesses, has ranked the greenest American and European airlines according to 6 criteria: fuel conservation practices; alternative fuel research; recycling programs; use of organic, local and fair trade food; green design of on-the-ground buildings; and carbon offsets. You can find the airline ranking here:

http://www.bbc.com/travel/story/20120501-how-eco-is-your-airline

Choosing an airline with a new fleet is also an eco-smart decision. According to the Air Transport Action Group (ATAG), aircrafts in service today are over 70% more fuel efficient per seat kilometer than the jets built the 1960s and deliver consequent reductions in CO2 emissions.

Search for eco-friendly airports: Airport areas produce a significant carbon footprint, partly because of various operation activities such as baggage handling as well as cooling or heating the facilities. Airports are also high traffic locations as both passengers and employees need to access the premises. However, some airports use renewable energies and implement energy saving measures so as to minimize their carbon emissions. For example, Boston Logan International Airport has set up wind turbines which account for 3% of the building's energy needs and supports cleaner driving for passengers by providing preferred parking to those who drive to the airport in hybrid cars. You can find more about airports which adopted major green projects here: http://usatoday30.usatoday.com/travel/flights/2008-09-16-green-airports_N.htm

Fly non-stop: Book a direct flight as take-offs and landings are responsible for most of an airplane's carbon emissions. CO2 emissions per passenger during take-offs and landings vary from 13.9 to 21.4kg, which amount to between one third and one half of a passenger carbon footprint3 for a domestic flight (<500km)!
Fly economy and chose an airline with more economy class seats: According to a report published by the World Bank in 2013, the combined carbon footprint of air travel in 2012 was about 195 million tons of CO2 for business class passengers, against 155.4 million tons for economy-class passengers.4 On average, a passenger in business class has a carbon footprint that is three times higher than someone in economy.

Carbon footprints by travel class (relative to the footprint of an average passenger)




| | | |
| --- | --- | --- |
| Class type | Wide-body | Single-Aisle |
| Economy | 0.76 | 0.82 |
| Business | 2.30 | 2.07 |
| First | 6.89 | 4.79 |




Source: World Bank (2013) Calculating the Carbon Footprint from Different Classes of Air Travel (p.15)

There are two main reasons why the carbon footprint is much higher when flying in luxury. First, business-class and first-class seats are bigger than standard seats, meaning less people can board the plane. Second, business class and first class are rarely occupied to their fullest capacity and some seats are often left empty. The less passengers a plane has, the higher the per passenger carbon footprint, so make sure the majority of the seats are filled when booking a flight.

Offset your carbon emissions: Some airlines as well as independent organizations will give you the possibility of off-setting your flight carbon emissions by helping an association to finance renewable energy, forestry and resource conservation projects that reduce greenhouse gas emissions. Here is a simplified table which displays contribution amounts for flights according to their lengths and duration:


 

Source: Evanston Community Foundation

Some air travel carbon offset calculators

- www.planetair.ca/en/v2/individus/services.sn

- http://www.carbonneutralcalculator.com/flightcalculator.aspx
Sustainable travel is all about planning your journey beforehand so as to find the greenest flight, but you should not forget simpler tips after having booked your ticket! For instance, take public transportation to and from the airport. Try to limit your luggage when flying, as the heavier the plane, the more fuel it burns and the more greenhouse gases it releases. Moreover, use electronic tickets instead of printing your boarding pass and avoid charging your electronic devices (phone, computer…) while on the plane, as they consume large amounts of electricity. It is also better to use the bathroom in the airport and not in the plane. The fuel used for a single flush could run a car for six miles.5 Air travelers can truly make a difference with simple efforts to reduce the global warming impact of each flight.
Additional references
http://www.dailymail.co.uk/news/article-2341988/Are-class-passengers-blame-global-warming-Flying-multiplies-carbon-footprint-times-compared-economy-class.html#ixzz3pHvysW13
You will save the Earth by sharing and/or tweeting (corny right?)