Hand Wash Clothes Effortlessly - All While Saving the Earth
Submitted by Jeannette on | Updated Sat, 17/09/2016 - 23:49
Read time: 5 mins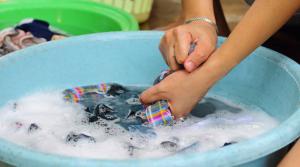 Trying to hand wash clothes used to be complicated but new products on the market make that super easy. Its gentler on your clothes and also a great way to reduce your carbon footprint by almost half a ton. You may be surprised to find out just how satisfying and empowering hand washing your laundry can be! We have come a long way from the old fashioned washboard and communal laundering. The convenience of today's modern washers and dryers has changed our lives for the better, allowing more time for family and leisure activities.
But along with the convenience comes a cost. Conventional washing machines use between 35-50 gallons of water per load and are the second largest water user in your home. Even high-efficiency front-loading washers are water intensive, using between 15-30 gallons per load. In North America alone, laundering creates an estimated 10.7 million tons of CO2 while using 15.9 TWh electricity and 3.9 billion m3 of water each year. Per household the average annual consumption amounts to about 149 kWh of electricity and 36 m3 of water. [1]
Depending on how you do it, and how many loads you get through each week, laundry can contribute a surprising amount to your carbon footprint. Washing and drying a load every two days creates around 440kg of CO2e each year, which is equivalent to flying from London to Glasgow and back with 15-mile taxi rides to and from the airport. The carbon footprint of one load of laundry:
0.6 kg CO2e washed at 30°C, dried on the line

0.7 kg CO2e washed at 40°C, dried on the line

2.4 kg CO2e washed at 40°C, tumble-dried in a vented dryer

3.3 kg CO2e washed at 60°C, dried in a combined washer-dryer [2]
These numbers could be drastically reduced if all households were to switch to energy efficient front loading washers and dryers using cold water only and hanging clothes to dry half of the time. And what if you could contribute to the reduction of these numbers even further without the financial investment required for the latest in energy saving appliances?
Products to hand wash clothes offer a water and energy saving solution, conserving both resources and money. Imagine the satisfaction of using zero electricity and minimum water for washing clothes, not to mention zero greenhouse gas emissions. By opting to hand wash clothes with cold water and hanging to dry you can reduce your energy consumption by as much as 149 kWh/year, water consumption by as much as 7840 gallons/year (based on 5 gallons per load) and CO2 emissions by as much as 440 kg/year or more depending on the number of loads you currently wash per week.
Even if you use hot water the savings are great. It takes 0.65 kwh to heat five gallons of water. At two loads per week this amounts to 67.6 kWh/year. If you use warm water, you could cut this number in half. If you use cold water, no energy is required to heat the water. [3]
For those who like the idea of returning to the basics there are a number of ideas on the internet for building your own machine to hand wash clothes, the most popular of which uses a 5 gallon bucket with lid and a modified toilet plunger. You can also find many creative ways of spinning/wringing your clothes before hanging to dry.
Products to hand wash clothes
For a modest investment there are other more hi-tech systems on the market. These machines, which use the power of human energy, apply the simple technology of water pressure and high speed to quickly get out dirt and stains in minutes. No need to fret about exerting too much energy—a simple crank or foot pedal is all you need to use a non-electric washer, which will take the load off you.
They are smaller in size, which makes them portable, great for camping or traveling, and perfect for apartments, dorms or small living spaces, especially where there is no washing unit. (Laundromat costs add up quickly and most use the less-efficient top-load machines.)
Patented pressure system forces water and detergent into fabric at high speed

Hand-crank powered (one turn per second)

Uses 1.5-6 quarts of water, depending on laundry size

Washing cycle: 10 seconds to 2 minutes

Washes up to 5 pounds of clothes (i.e. 10 shirts, 2-3 pairs of jeans, or 30 pairs socks)

Drain hose drains wash drum without needing to pick up machine
Cost: $45
Note: Wonderwash also makes a spin dryer
Circular washing system spins away excess moisture

Hand crank to agitate

Uses only 1.5-5 gallons of water

Washing cycle: less than 10 minutes

Washes up to 10 pieces of clothes

Drain hose has internal tube storage
Cost: $99
Designed with disadvantaged communities in mind to ease the physical and economical stress of hand-washing clothes (award-winning for its relief efforts)

Combination washer and spin-dryer

Powered by foot pedal as user sits on top

Washing cycle: 3-5 minutes

Uses 1/3 less water than hand-washing
Cost: $40
Other bonuses to using zero electricity and minimum water for washing clothes:
Prevents soap residue often left from larger, conventional washers

Ideal for delicates and washing single items that you don't want to stain other clothes by

Pre-assembled, no mechanical parts, no maintenance

Perfect for off-grid living
Eco bonuses:
No greenhouse gases from washing clothes

Less than 5 gallons of water per load

If using non-toxic detergents, the used water from washing clothes can be recycled as grey water

A perfect complement to hanging your laundry to dry on a clothesline. [4]
For those who want to try hand washing their laundry before investing in any of the above Three Actions Project provides detailed instructions that are very easy to follow.
1. http://www.bigee.net/en/appliances/guide/residential/group/3/
2. http://www.theguardian.com/environment/green-living-blog/2010/nov/25/carbon-footprint-load-laundry
3. http://www.skidmore.edu/~jthomas/lifestyleproject/energyfacts.html
4. http://www.greencleaningmagazine.com/3-efficient-hand-washing-machines/
You will save the Earth by sharing and/or tweeting (corny right?)