Have you tried the five minute shower challenge?
Submitted by Stephanie Kumar on | Updated Sat, 17/09/2016 - 23:49
Read time: 5 mins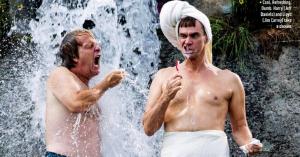 If you watch the news or read the newspaper you will learn about the terrible drought in California. This is the fourth year California is in a severe drought. California Governor Jerry Brown announced a drought State of Emergency in January 2015 and ordered strict conservation measures statewide. On May 5, 2015 California water regulators ordered tough restrictions on residents' use of water. Californians are required to cut their water usage up to 35 percent or they will face harsh fines under proposed new rules. The drought is a very serious issue, at every corner there are signs reminding Californians to conserve water. The San Francisco Public Utilities Commission has started the 'Brown is the New Green' campaign, which reminds residents to save water and let their lawns go brown. In La Canada Flintridge, California, a sign posted roadside reminds drivers of the Water Conservation Alert Status. There are also TV commercials, which remind Californians of the drought and inform the viewers of water conservation alternatives. For instance, there is commercial which tells California residents to use a broom to clean their driveway instead of using a water hose. Californians are trying their hardest to conserve water; many people are thinking of creative new ways to save water. Some California residents decided to have their home swimming pools removed. Alternatives to regular lawns are artificial lawns; this is a great way to have a green lawn while reducing water. Some Californians use bottled water to wash dishes. In Pleasanton, California, residents, fills buckets with recycled water at the Dublin San Ramon Services District (DSRSD) residential recycled water fill station. Also many Californians stopped washing their cars in order to conserve water. These are all great alternatives to saving water. However there are more ways to save water; a great alternative is taking short showers.
Did you know the average showerhead uses 2.5 gallons of water per minute? If you take a long shower you use a lot of water but also creates C02 emissions. According to the EPA, running a hot water faucet for 5 minutes uses about the same amount of energy as burning a 60-watt bulb for 14 hours. Therefore taking short showers can really save energy and reduce your carbon footprint. It takes energy to heat your water tank and keep it hot. When you take a long hot shower, energy is needed as cold water is piped in to replenish the tank. The energy used by the hot water tank likely comes from electricity or by burning natural gas. Therefore taking a long shower is linked to burning fossil fuels and the emission of C02.
Heating 1 gallon of water produces, on average, 0.18 lbs of CO2. A five-minute shower creates 2.25lbs of CO2 and a ten-minute shower 4.5 lbs of CO2. A survey by Ech2o from 2010 found that an average shower lasts 13 minutes. Taking only five minute showers for the next 30 days would save 108 lbs of CO2, which is more than what a tree seedlings grown for 10 years can sequester (1.27 times more to be precise)!
Taking five minute showers for a whole year would save as much CO2 as is sequestered annually by half an acre of U.S. forest.
The table at the bottom shows pounds of CO2 created while you are taking a shower. The other table at the bottom shows the number of gallons of water, which is used while you are taking a shower. If you want to calculate your own shower time you can use the shower calculator link at the bottom; it will help you figure out the amount of water and energy you use while you are in the shower.
| | | | | | |
| --- | --- | --- | --- | --- | --- |
| Shower Time | 1 Minute | 2 Minute | 3 Minute | 4 Minute | 5 Minute |
| CO2 lbs | 0.45 | 0.9 | 1.35 | 1.8 | 2.25 |
Time Period Shower Time Gallons Savings
| | | | | | |
| --- | --- | --- | --- | --- | --- |
|   | 1 Minute | 2 Minute | 3 Minute | 4 Minute | 5 Minute |
| 1 Day | 2.5 | 5 | 7.5 | 10 | 12.5 |
| 1 Week | 17.5 | 35 | 52.5 | 70 | 87.5 |
| 1 Month | 75 | 150 | 225 | 300 | 375 |
| 1 Year | 912.5 | 1825 | 2737.5 | 3650 | 4562.5 |
Shower Calculator: http://www.paystolivegreen.com/shower-water-and-energy-use-calculator/
Many people may have starting taking short showers in hopes of saving water. But a great way to make sure you are taking short showers is to keep a waterproof watch in the shower. By putting a waterproof watch in the shower you get to actually see the minutes pass and you can keep track of how many minutes you have been in the shower. This can be a "Shower Challenge" by cutting your shower time to just five minutes you can help save water and C02 emissions. This is a fun and creative way to save water.
You can challenge your family to a "Five Minute Shower Challenge;" everyone has five minutes to get in and out of the shower. When anyone hears a challenge they want to rise to the occasion so this is a fun and effective way to save water in your household. This is also a fun challenge you can do with your roommates; roommates often complain about fellow roommates taking too long in the bathroom. Therefore this is a great way to save water and keep the bathroom free. This is also a fun challenge for kids because we all know, kids love games and this is a fun and creative way to teach them about saving water. The "Shower Challenge" is a win-win, you get to save water and play an awesome game in your household.
Sources
http://www.cbsnews.com/pictures/californias-drought/
http://www.paystolivegreen.com/quick-saving-tip-shorter-showers/
http://www.carbonrally.com/challenges/15-power-showers
http://ech2o.co.uk/downloads/Is%20the%205%20minute%20shower%20an%20urban...
You will save the Earth by sharing and/or tweeting (corny right?)