Saskatchewan's First Solar Co-operative
Submitted by Emily Boiteau on | Updated Sat, 17/09/2016 - 23:49
Read time: 7 mins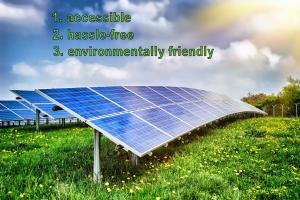 Major cities in Saskatchewan have the good fortune of being some of the sunniest places in Canada. Specifically in Saskatoon, on average there is 2268 hours of bright sunshine every year, 319 days annually with some bright sunshine and 49% of daylight hours are sunny.[i] Now enter the Saskatchewan Environmental Society (SES), an environmental non-profit organization based in Saskatoon, aiming to form the province's first solar power cooperative.
In December 2014 Affinity Credit Union held The Business of Good Social Venture Challenge, which is a crowdfunding competition between non-profits and charitable organizations in two districts in Saskatchewan.[ii] Applications are submitted and Affinity district members choose the top 3 business ideas. Once the finalists were chosen, it was up to the community members to have their say in which venture should win the top prize – a $50,000 grant from Affinity as well as the crowd funding contributions! SES was chosen as a finalist in this competition and eventually went on to win the grant plus $59,000 in donations for a grand total of $109,000. The donations were raised from 649 people from 13 different countries.[iii] With this great success, the SES Solar Co-operative Ltd. was now in motion to start making a difference in regards to renewable energy production in Saskatchewan.
Solar Co-operative Details
To become a member of the cooperative you would need to purchase one common share (membership for $50) and one preferred share ($950) for a total of $1,000. The preferred share is equivalent to one solar panel and its hook-up to the grid. Thus far, over 70 preferred shares have been purchased. The initial shares will be a part of the first installation project at the Saskatoon Light and Power Landfill Gas Generating Site. The construction phase for this first installation project is expected to be completed by summer 2016.  
The methane gas plant burns gas coming directly from decomposing material from the landfill and that generates electricity. However, to extract methane from the landfill it takes electricity and that is currently being bought from the Saskatchewan Power Corporation. The solar co-op would build a network of solar panels and sell that electricity to the city for the Landfill Generating Site. The money made from those sales would be rebated back to the co-op members.[iv] Peter Prebble, Director of Environmental Policy at SES and Interim Board Member for the co-op, has estimated that members who purchase a preferred share could have their investment returned in 20 years.[v]
Ultimately, having a solar co-op in Saskatchewan is fantastic news for those who want to invest in renewable energy. It is a great option for people who live in apartment buildings or condos and are unable to have solar panels. It is also a viable option for those with homes in areas with a less amount of sunshine, or those who can't afford to install enough solar panels to produce electricity for their entire home, or those who rent or finally, those who plan to move. The membership in the solar co-op ensures that your investment stays with you. Simply put, being part of a co-op is easy. The board takes care of installation, maintenance and overall business model for the solar panel network. For the SES Solar Power Co-operative, they are planning to use the initial projects as a way to conduct research on solar panels (e.g.: which are most effective), develop a proper business plan and overall structure for the co-op so it can be repeated with similar renewable energy projects in the province.[vi]
Environmental Benefits of the Solar Co-op
Now after reading all of the above details, you may be thinking, "What are the environmental benefits of a solar co-operative?" First off, solar power emits a fraction of the greenhouse gas pollution associated with electricity produced from coal and natural gas. SES estimates that members of the solar co-op will reduce their greenhouse gas emissions by approximately 120 tonnes per year, an equivalent of roughly 1325 trees. [vii] Information from the SES Solar Power Co-op FAQ also discussed the reduction in greenhouse gas emissions.  By using solar panels to generate electricity, members are displacing the amount of greenhouse gas emissions from the burning of fossil fuels that would otherwise go into the atmosphere. Carbon dioxide and nitrous oxide emissions in particular contribute to climate change over time and those emissions can remain in the atmosphere for an average of 100 years and 114 years, respectively. For more FAQs regarding this particular solar co-op, please click here. 
Specifically with the Landfill Generating install location, we have calculated the CO2 savings for the 70 preferred shares that have been purchased. On the IndieGoGo fundraiser page, it is estimated that one solar panel would be capable of producing 250 watts of energy. Thus, the 70 panels would produce 17,500 watts or 17.5 kW of energy. On average in Saskatoon, there are 6.5 hours of sunlight in a day. This number varies greatly over the year with summer months having 10 hours of sunshine and winter months as low as 2.5 hours. Using the average, the 70 panels could produce 113.75 kWh in a day and 3,412 kWh in a month. 
To calculate the amount of CO2 that would be released into the atmosphere if this electricity was produced by coal-burning sources, we would need to multiply the kWh by the electricity emission factor. In the University of Saskatchewan 2014 Greenhouse Gas Report, the electrical emission factor for SaskPower is noted as 0.75 kg/kWh. Therefore, the CO2 that would potentially be produced from 3,412 kWh of electricity is 2,559 kg CO2, or 2.56 tons CO2/month (30.72 tons CO2/year).
Using the EPA Greenhouse Gas Equivalencies Calculator, the annual CO2 savings of 30.72 tons/year by solar energy production is the equivalent of taking 7 cars off the road. The landfill generating site also uses approximately 13,500 kWh/month, which is the electricity currently being purchased from SaskPower. With the installation of just the 70 panels purchased, 25% of that electricity could be produced with solar panels.  
How to Become a Member
The following information was provided by SES for anyone interested in becoming involved with Saskatchewan's first ever solar co-operative.  
You can now join the solar co-op by purchasing one common share (your membership) and one preferred share.  Your preferred share will approximate the generating capacity of one solar panel and its hookup to the grid.  Please note you must be 18 years or older to become a member.
The cost to join SES Solar Co-op and purchase your common share and preferred share is $1,000.  If you would like to join the co-op, you can do so by filling out the membership application. Please include with it a cheque for $1,000 made out to 'SES Solar Co-operative Ltd.'.  Please mail your membership application and cheque to: SES Solar Co-operative Ltd., c/o Saskatchewan Environmental Society, 204-220 20th Street West, Saskatoon, Saskatchewan, S7M 0W9.
Further Information
For more information such as membership information and contact details for the SES Solar Co-operative, visit the Energy Solutions page (scroll about halfway down).
For more information about the Saskatchewan Environmental Society such as general details, current and past project involvement and ways to donate or become a member please click here. 
Special thanks to Megan Van Buskirk, Office Manager and Volunteer Coordinator at SES, for taking time to answer some of my questions and directing me towards incredibly useful documents and resources for this success story.
---
You will save the Earth by sharing and/or tweeting (corny right?)